---
Salt Aerosol Automated Filter Tester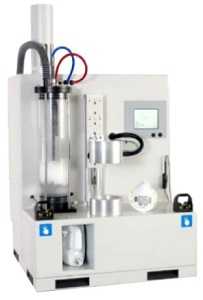 The 100S Salt Aerosol Automated Filter Tester is designed to test high-efficiency filter based products using a sodium chloride salt aerosol. The aerosol particle size and distribution are designed to meet all requirements as defined in the relevant sections of NIOSH 42 CFR, Part 84 and is also suitable for testing to JMOL and in-house QC to EN143/related standards. The 100S can be utilized to meet various flat sheet media, filter, and respirator/mask testing requirements while offering unmatched customer features and benefits. A high level of performance coupled with low service and maintenance requirements makes the 100S ideally suited to meet the rigorous quality control and validation requirements of both development and production quality control environments.

Product Classification
The 100S can be supplied in a manual, automatic, or hybrid mode of operation.The manual version is ideal for lab use or production lot testing and requires an operator to engage a test using ergonomic photo-electric actuators. Included standard is a manual test fixture and standard 100cm2 flat sheet media fixture.

The automatic version integrates seamlessly with a customer designed, PLC driven, automated production line and is ideal for 100% in-line non-destructive product testing. The unit becomes a slave device to the automated production line and is controlled via communication port. In fact, the 100S is the only salt aerosol filter tester capable of seamless automated production integration.
The Hybrid version provides both the ability to operate in an automated production environment as well as in a manual mode.

Components
The 100S was designed with discrete compartments intended to isolate components having similar maintenance requirements or characteristics. For example, all the 100S filters requiring periodic replacement are located within the left portion of the enclosure as viewed from the front of the instrument, and printed circuit boards are located within the right side, etc.

Salt Aerosol Generator
The 100S uses a unique patented pneumatic nebulization, impaction & conditioned dilution air to generate a salt aerosol having characteristics as defined in NIOSH 42 CFR Part 84.

Generator Solution Level Sensor
The 100S Salt Aerosol Automated Filter Tester is equipped with an integrated liquid level sensor to insure consistent aerosol generation characteristics.

Generator Replenishment Pump
The 100S is equipped with an innovative patented integrated Generator Replenishment Pump & reservoir. During operation, as solution is consumed, the Generator Replenishment Pump automatically maintains the necessary liquid level in the main aerosol generator tank using the Generator Solution Level Sensor.

Air Inlet Conditioning System
Compressed air utilized within the 100S is conditioned by a series of regulators, dryers and heating elements. This provides for a consistent, high quality, source of aerosol as well as reduced maintenance requirements for air operated components.

Dilution Air Heater
Dilution air is required to adjust and maintain the desired aerosol concentration levels. An integrated heater is used to standardize the dilution air temperature and provide a controlled drying environment for formation of the aerosol particles.

Aerosol Neutralizer
An aerosol neutralizer is supplied as standard equipment on the 100S. The neutralizer reduces the electrical charge that builds up on the aerosol particles when the salt solution is atomized. This neutralization technique enables the aerosol to reach the Boltzmann equilibrium.

Flow Controller
A state-of-the-art mass flow controller is used to set and maintain a constant test flow rate regardless of varying test conditions. Test flow rates may be selected for display in either volumetric or mass lpm of flow. This allows for greater results repeatability, as well as a significantly lower instrument monitoring burden to maintain flow during extended or load testing.

Pressure Transducers
The 100S incorporates a series of internal pressure transducers to monitor operating pressure levels. This allows systems messages and warnings to be presented when pressures fall outside of predetermined values necessary for consistent, accurate operation of the unit.

Test Fixture (Chuck)
The Test Fixture, often referred to as a "Chuck" is designed to be as versatile as possible while still allowing necessary operational routines. The Test Fixture is back mounted on a pneumatically driven, linear actuator with a standard stroke length of 146 mm (5.75 inches).






Note:
QINSUN is very in place for textile testing and quality control,we have our own textile testing lab. Our
textile testing equipment
and testing methods are in the leading position in the industry. We have passed the textile testing certification and iso textile testing standards issued by a number of testing,We can provide
textile testing equipment pdf manual
. Sufficient inventory, big discounts, limited time promotion, Order now!