Site:
Home
>
News / Faq
Methods And Relevant Test Equipments For Abrasion Test

An abrasion test is a test used to measure the resistance of a material to wear stemming from sliding contact such as rubbing, grinding, or scraping against another material. An abrasion test may also be referred to as wear testing, as an abrasion resistance test, or simply as a resistance test. Wear testing is of interest in a number of technical fields, including civil and mechanical engineering, reliability engineering, metallurgy, and geology. These tests are of importance in ensuring the durability of a material in a particular product or application, and in ensuring that material that erodes because of abrasion does not cause environmental or safety hazards in the production or test environments or in use of the product.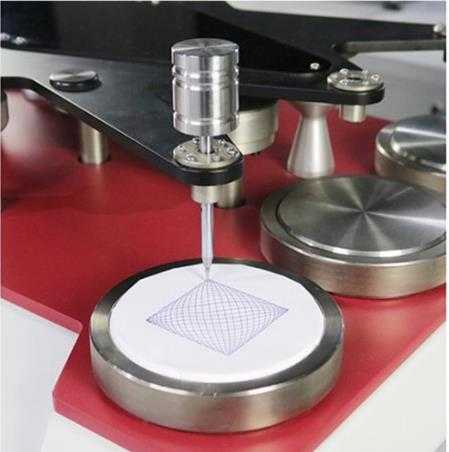 Several factors are typically considered in developing or selecting an appropriate abrasion test for the application at hand. The shape of the contact area is taken into consideration, as is the composition of the two surfaces making contact with one another. Speed of sliding contact between the two surfaces, the force with which they act on one another, and the duration of contact between them may also be considered. In addition to the materials themselves, the environment in which they are making contact also plays a role in selecting an appropriate abrasion test.
Most abrasion tests depend on applying energy to the fabrics and measuring their response to it. The manner of transferring the energy from machine to the fabric is different for different machines, but the basic principles are the same .
There are three types of abrasion in terms of occurrence; flat, edge and flex abrasion. Therefore different abrasion test methods have been described by the abrasion type, the test head movement or testing device setup. The differences among the procedures include the type of equipment, abradant (the material that rubs against the specimen), material used (including woven, nonwoven, and knit apparel fabrics, household fabrics, industrial fabrics, and floor coverings) and assessment method. In all of the test methods, the tested specimen is rubbed in a particular manner against an abradant which may be a fabric, or a emery sheet for either a certain amount of time for a certain number of strokes or cycles .
ASTM and ISO define several methods to quantify abrasion resistance of textile materials and introduce methods for the evaluation of abraded fabrics. However, there is not a
linear relationship between successive measurements using any of these methods and progressive amounts of abrasion . In follow Table , these test methods and relevant test equipments are given.
Test Standard

Testing Device / Method

ASTM D 4966

Standard Test Method for Abrasion Resistance of Textile Fabrics

Martindale Abrasion Tester

ASTM D 3884

Test Method for Abrasion Resistance of Textile Fabrics

Rotary Platform DoubleHead
(RPDH)

ASTM D 3885

Test Method for Abrasion Resistance
of Textile Fabrics

Flexing and Abrasion Method

ASTM D 3886

Test Method for Abrasion Resistance
of Textile Fabrics

Inflated Diaphragm

ASTM D 4157

Test Method for Abrasion Resistance
of Textile Fabrics

Oscillatory Cylinder Method

ASTM D 4158

Test Method for Abrasion Resistance
of Textile Fabrics

Uniform Abrasion Method

AATCC-93 Test
Method
Abrasion Resistance of Fabrics:
Accelerator Method

Accelerator Method

ISO 12947-1

Determination of the abrasion
resistance of fabrics by the Martindale
method Part 1: Martindale abrasion
testing apparatus

Martindale Abrasion Tester

ISO 12947-2

Determination of the abrasion
resistance of fabrics by the Martindale
method Part 2: Determination of
specimen breakdown

Martindale Abrasion Tester

ISO 12947-3

Determination of the abrasion
resistance of fabrics by the Martindale
method Part 3: Determination of mass
loss

Martindale Abrasion Tester

ISO 12947-4

Determination of the abrasion
resistance of fabrics by the Martindale
method Part 4: Assessment of
appearance change

Martindale Abrasion Tester
2019-11-07 17:15