Site:
Home
>
News and events
Evaluation of Floorcovering Abrasion Resistance by Means of Image Processing Technique

Physical properties of textiles in all possible forms are a very important issue in production and trade.
Characteristics of industrial textiles and fabrics which depend on the geometry and structure of the surface are a very complex structure of the fibers and yarns. The care of textiles is directly tied to their lifetime and application. As a result of erosion, a fabric may lose its beauty due to some factors such as abrasion and pressure force in wet and dry conditions [1]. The abrasion resistance of the fabric is influenced to a great extent by the geometry of its structure. The most important factors which affect the abrasion resistance are fiber type, frictional pressure and geometry of the textile, yarn diameter, crimp distribution,wave and their effect on protrusion, twist as well as dyeing and finishing treatments [1]. Variables such as wear direction, wet or dry samples, pressure, fabric tension,abrasive type, abrasive erosion and loss of transparency are.
recognized as wearing phenomena. The floorcoverings are subjected to abrasion by heavy mechanical forces and washing by chemical detergents. Farlane evaluates all discussed and reviewed the methods of evaluation, testing and characterization of the floorcoverings and analyzed them from different points of view. He also introduced the test methods for dynamic compressibility properties, abrasion resistance and anti-static properties [2]. Lehnen etal. presented some experimental tests to evaluate the carpets abrasion in a bridge by riding a motorcycle on it as well as in the main corridor of a school to perform the walking test. They showed that the fibers thicknesses play the most important and effective role in the erosion characteristics while the pile height and texture densities are also very effective [3]. Carnaby evaluated the mechanical processes that lead to changes in the textiles and loss piles. He plotted the diagrams of the total carpet thickness versus the number of wearing cycles and then investigated the results based on decreasing the thickness under physical processes. He proposed specific steps to reduce the thickness which contains fibrous internal friction, relaxation of pile fibers, fiber fatigue and fiber rupture. He also evaluated the experimental results with the mathematical diagrams. He claimed that the mathematical method is an appropriate method for carpet grading [4].
Slate found that the loop and cut pile show significant differences in the appearance after being abrasive. This is while they reported a similar damage to the fibers at the microscopic level, and they found that in all cases the damaged fibers are uniformly distributed in a pile and the space in which the damage occurs is often associated with a strong local or regional impact of inner fibers bending. Changing the color of the carpet abrasion test are the most important carpet abrasion tests [6]. The tests are done on certain grades and evaluate the intensity of light which is reflected from the surface of the carpet with the help of mathematical equations. There are different methods for assessing the abrasion resistance, i.e. abrasion resistance of nonwovens with thermal connections, evaluation of abrasion resistance by characteristics of the stress - strain, abrasive machine for estimation of single fiber, the nonplanar scenes, the bending and abrasion, the screen wire method, and etc. [1]. Changes in the appearance of textiles due to mechanical abrasion are possible to be assessed by the changes of texture images. In fact, by preparation of suitable images, the abrasion of textiles could be evaluated. Shady et al. used image processing to extract the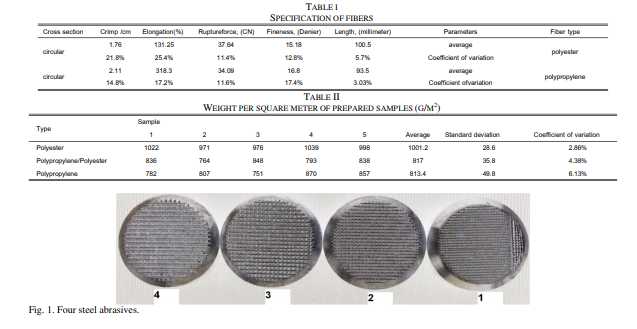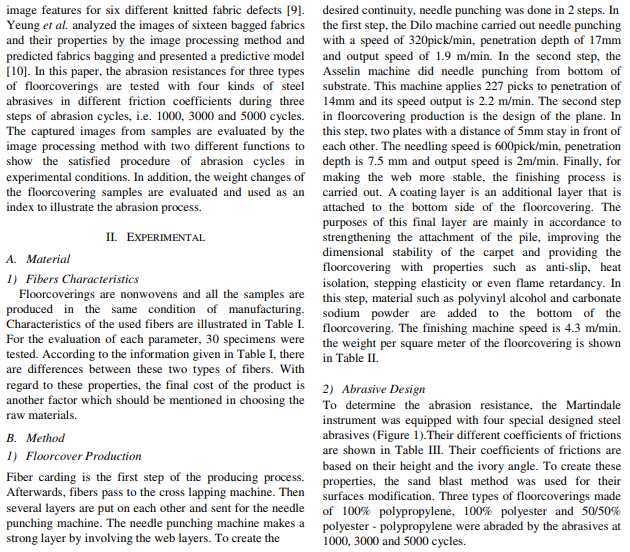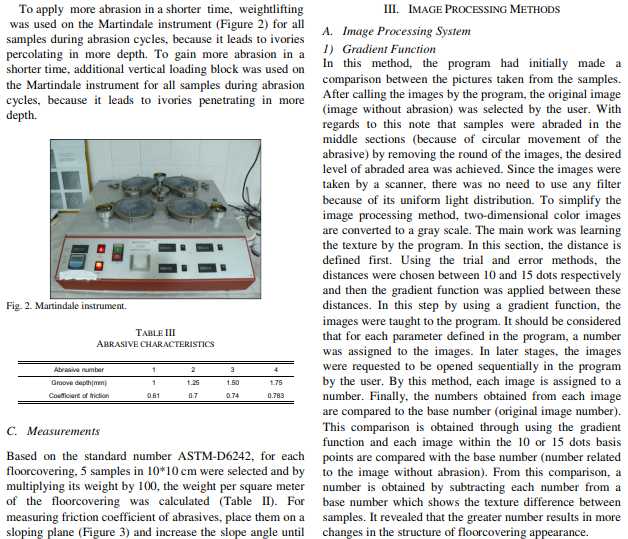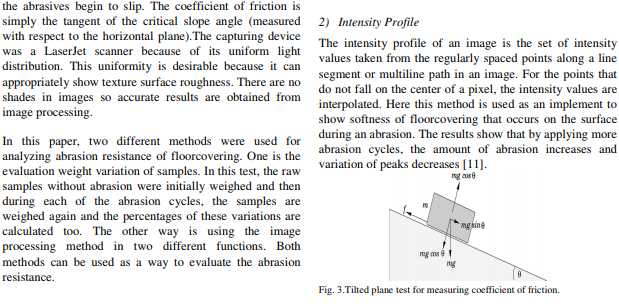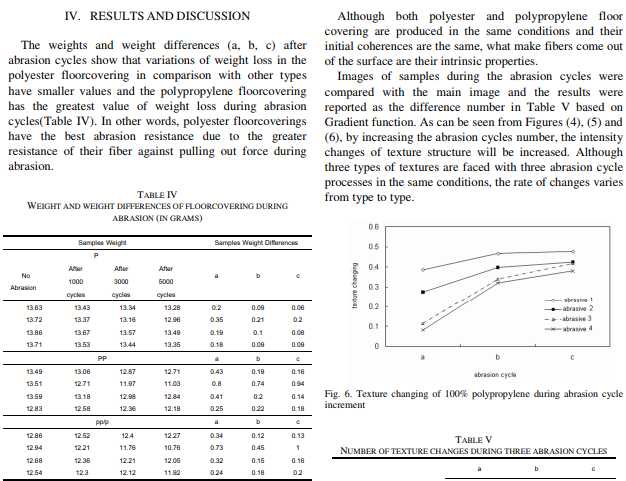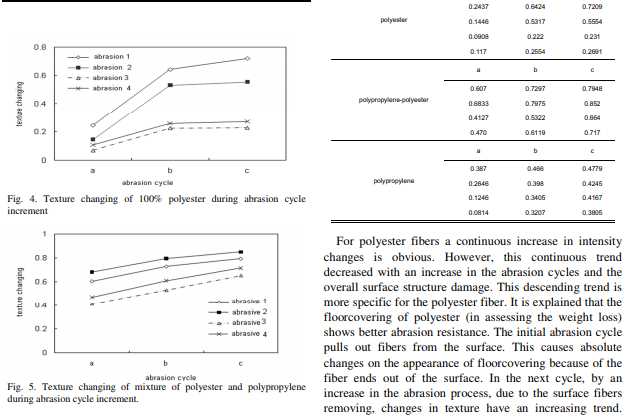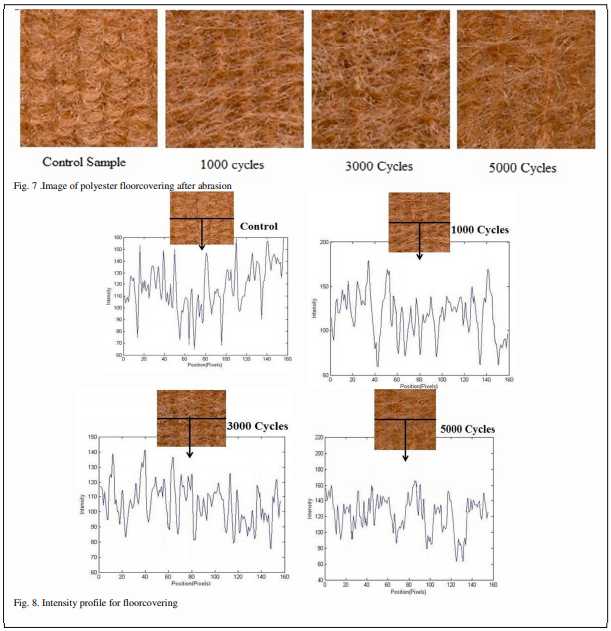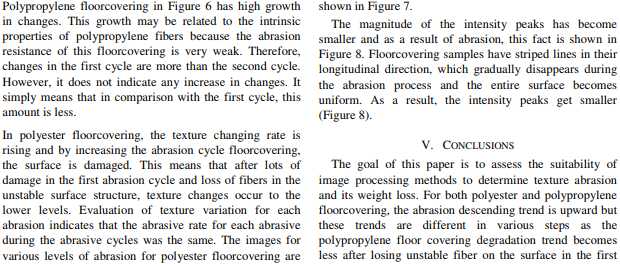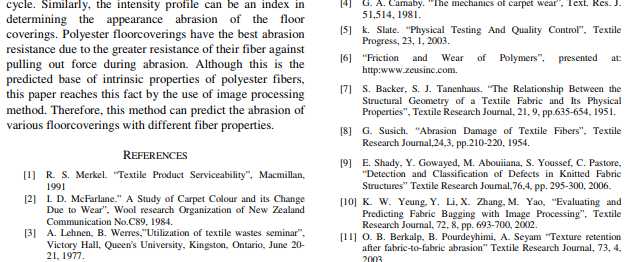 2018-12-13 17:29