Site:
Home
>
News / Faq
What is leather testing

Leather testing overview
Leather definition: Leather is animal skin that has been denatured and is not perishable, which is obtained through physical and chemical processing such as dehairing and tanning. Leather is tightly woven from natural protein fibers in a three-dimensional space. There is a special grain layer on the surface, which has natural grain and luster, and feels comfortable.
Leather testing items mainly include PVC/PU testing, physical performance testing, chemical performance testing, color fastness, content determination, material identification, component analysis, toxic and hazardous substance testing, environmental testing, azo testing, etc.
Leather detection range
Raw leather: cowhide, goat skin, sheep skin, pig skin, raccoon skin, rabbit skin, fox skin, mink skin, etc.
Finished leather: shoe upper leather, shoe lining leather, garment glove leather, sofa leather, car seat leather, luggage leather, special/professional finished leather, etc.
Artificial leather (artificial leather): PVC artificial leather, polyamide artificial leather, polyolefin artificial leather, polyurethane artificial leather, polyolefin leather, nylon leather, synthetic leather, etc.
Finished leather clothing: leather coats, leather jackets, leather hats, fashion leather, special/professional finished leather clothing, etc.
Fur products: fur mattresses, fur clothing, fur hats, fur toys, mink fur products, fox fur products, etc.
Leather chemical raw materials: cationic dyes, sulfur dyes, vat dyes, metal complex dyes, ice dye dyes, solvent dyes, direct dyes, acid dyes, disperse dyes, reactive dyes, basic dyes, special/professional dyes, surfactants, degreasing agents, chrome tanning agents, retanning agents, auxiliary tanning agents, dyeing aids Fatliquor, finishing materials, fur special materials, etc.
Leather accessories/hardware: molded soles, artificial leather, synthetic leather, heels, shoe lasts, shoelaces, leather hardware accessories, leather accessories, etc.
Ball leather: leather basketball, leather volleyball, leather football, special/professional leather balls, etc.

Leather testing items
Physical performance test: tensile strength, elongation, tear strength, tensile strength, shrinkage temperature, burst height, burst strength, apparent density of leather, coating fold fastness (normal temperature/low temperature), bottom leather fold fastness , Water absorption, heat resistance, oil resistance, friction resistance, flame retardancy of fur
Chemical performance test: pH value, hexavalent chromium content, formaldehyde content, banned azo dyes, smell, fur volatile content, leather moisture content and volatile matter
Color fastness: color fastness to rubbing, color fastness to water stain, color fastness to perspiration, color fastness to light
Content determination: formaldehyde content, hexavalent chromium, azo, heavy metals, PCP, TeCP, OPP, free fatty acid content, organotin compounds
Material identification: material identification (leather, fur/artificial leather/synthetic leather, etc.)
Analysis items: component analysis, toxic and hazardous substance testing, environmental protection testing, azo testing
1. Wear resistance testing machine:
used for wear resistance testing of leather, cloth, paint, paper, floor tiles, plywood, glass, natural rubber, etc. The method is to cut the test piece with a standard cutter, use the specified type of grinding wheel, and load a certain weight to wear it, take out the test piece after the specified number of revolutions, observe the condition of the test piece or compare the weight difference of the test piece before and after the test .
2. Leather peeling strength tester:
Test method: The shoe last is clamped on the peeling tester, and the joint between the sole and the upper is peeled off with a peeling knife. The force required for peeling is measured as the peeling force. The force and the width of the knife edge calculate the peel strength.
3. Leather winding resistance tester (normal temperature):
used to test the flexibility of shoe upper leather, inner lining, clothing or bag materials at normal temperature. One end surface of the test piece is used as the inner side, and the other end surface is used as the outer side to reciprocate. Bending, record the number of bending when the test piece is damaged; or set the number of bending, and then take it out to observe the degree of damage.
4. Wear resistance tester:
It is mainly used to test the wear resistance of rubber products such as shoe soles, tires, and car tracks or vulcanized rubber. The sample is rubbed with the grinding wheel under a certain inclination angle and a certain load to determine the sample. The volume of friction in a certain mileage.
5. Leather dynamic waterproof testing machine:
It is mainly used to test the raw materials used in shoe uppers, such as: leather, artificial leather, fabrics, etc., cut test pieces, install them on the testing machine, and apply scratches under water. The folding action is used to measure the penetration resistance index of the material, or as a basis for the research and development of improved materials and waterproof processing.
6. Leather fabric tearing strength testing machine:
This series of material testing machines are widely used in various materials such as hardware, metal, rubber and plastics, footwear, leather, clothing, textile, insulators, wires and cables, terminals, etc. Various physical properties such as tensile, tearing, peeling, compression resistance, bending shear resistance, three-point bending resistance, etc.
7. Tianpi abrasion tester:
mainly used to test the abrasion resistance of the heel of leather shoes. It is suitable for all kinds of leather.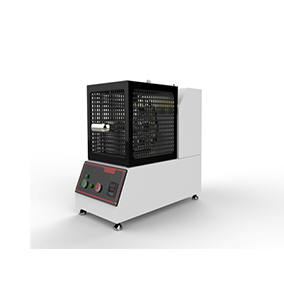 Leather testing significance
Leather is the main raw material of the leather products industry, mainly used for shoe uppers, shoe soles, clothing, bags, etc. Therefore, the quality of leather products mostly depends on the raw materials used-the quality of leather. The quality of leather is evaluated through visual inspection, wearing test, microstructure inspection and physical and chemical analysis inspection.
Boxes, bags, gloves, ticket holders, belts, etc. are indispensable daily necessities in people's lives. Generally speaking, the fabrics of medium and high-end bags and bags are mainly made of natural leather materials. As the end product of leather, leather goods are closely related to the development of the two. Leather development is a prerequisite for the development of leather goods, and the speed of leather development restricts the development of leather goods.
2021-09-09 11:49