Site:
Home
>
News / Faq
How to plan textile testing physical laboratory |Methods & Importance

How do we ensure the safety of textiles? Textile testing companies and consumer organizations have conducted a variety of analyses through textile testing laboratories to ensure that our clothes and the textile fabrics we use at home will not harm us, are comfortable and maintain bright colors for a long time. These processes are called textile testing. .
How to plan textile testing physical laboratory? Method and importance
According to QINSUN instruments, the testing area of ​​the textile testing physics laboratory must have a constant temperature and humidity room, the combustion chamber must have ventilation and exhaust, the washing room must be equipped with water in and out, and the dark room must be protected from light; the chemical experiment area must have exhaust facilities. Independent exhaust cabinet, organic and inorganic pre-treatment are separated; walls, floors, laboratory benches, reagent cabinets, etc. must be insulated, heat-resistant, resistant to acids and alkalis, and resistant to organic solvents. An important part of the entire laboratory design is nothing more than a few rooms: constant temperature and humidity laboratory, washing room, preparation room, drying room & hanging room, reference room and office.

1. Constant temperature and humidity laboratory:
Regarding textiles, the temperature and humidity settings are generally 20±1℃ and relative humidity 65%±2%. The number of cycles of air volume is 15-30 times per hour, the noise should be less than 55 decibels, and fresh air should be added. The constant temperature and humidity laboratory is generally divided into three areas: buffer room (to ensure the stability of temperature and humidity), independent air-conditioning room and constant temperature and humidity room.
Constant temperature and humidity laboratories require strict thermal insulation and moisture insulation performance. Generally, the four facades of the laboratory will use color steel composite panels (in order to meet the fire protection requirements, rock wool color steel plates are generally used. However, rock wool thermal insulation performance is poor, preferably Add a layer of phenolic aluminum foil insulation board on the outside of the rock wool color steel plate to increase the insulation performance of the external wall, which can effectively save energy and reduce consumption). In order to ensure airtightness, the top surface should be sealed with color steel plate, and the top surface should be sealed with phenolic aluminum foil. For thermal insulation, the ground uses phenolic thermal insulation board for thermal insulation and moisture isolation; for see-through windows, double-layer hollow glass windows are required. The floors of buffer rooms and air-conditioning rooms in the drawings designed by QINSUN are generally composite floors, which can save cost and look beautiful.
2. Washing room: The floor is generally non-slip floor, and non-slip tiles must be used. The walls are usually coated with latex. The best way to wash is to treat the water in and drain well, so that there is no water in the washroom. The toilet needs a separate power source and is also very powerful.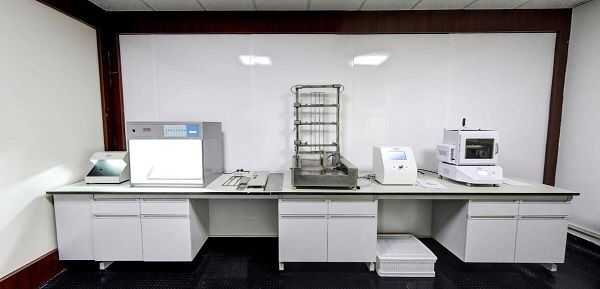 3. Preparation room: It is mainly a place to prepare before textile testing work. The area is generally not small, because it needs to be large enough to hold clothes, cars, and test benches. It is generally better to use PVC flooring for the floor, and use ceramic tiles to save a lot. But be sure to use non-slip tiles. Microporous aluminum should be used to decorate the top surface. The wall should be made of color steel plate-built-in.
4. Drying room & hanging drying room: The drying room designed by QINSUN is also relatively simple and cost-effective, with non-slip tiles on the ground, microporous aluminum plate on the top, and latex paint on the wall. There is usually a drying apparatus that simulates sunlight. But the tanning machine needs ventilation, so ventilation should be considered during construction. And there is also a hanger inside to hang clothes.
5. Data room: The data room is mainly used to store textile fabric test records and reports and other data files. File cabinets are placed in this area, all of which can be locked. At the same time, there must be related fire-fighting facilities such as smoke alarms and fire extinguishers.
6. Office: The office in the laboratory building should be separated from the laboratory. In the office, personal use has desks, office chairs, office computers, printers, etc. Fluorescent lights should be used in the office, and they must be separated by non-combustible solid walls, and their fire resistance rating should not be less than 3.5h. The style and color of office furniture should be unified, the office environment should be clean and bright, the lighting arrangement should be reasonable, and there should be plenty of light. In addition, there are related fire-fighting facilities such as smoke alarms and fire extinguishers.
In addition, the countertops in thetextile testing laboratory should be easy to clean, moderate in color, load-bearing and wear-resistant. Epoxy resin boards or chemical boards in solid physical and chemical boards can be used; floor leakage should be provided on the ground to prevent backflow. The laboratory where the central test bench is set up shall be equipped with water and drain devices and power plugs for the test bench. In the experimental areas with more acid and alkali, emergency showers and eyewashing devices are installed in the corridors.
2021-08-03 14:21