Site:
Home
>
News / Faq
Automatic Filter Efficiency Tester Filtering Characteristics and Methods

In the past 2020, masks, epidemic prevention and new crown pneumonia have been popular high-frequency search terms. In the past year, Qinsun's Filter Performance Tester of Responder series products have been exported to many countries, and the export quantity is several times that of previous years. today, let's talk about the testing method of gas filterability, so that you can know the effect of automatic filter efficiency tester more clearly.

The application of fiber filter materials in the field of gas filtration mainly includes: First, the filtration of industrial flue gas and waste gas, such as iron and steel industry, has a large amount of flue gas and dust, and there are pollution sources such as blast furnace, electric furnace, converter and sintering furnace that produce high temperature flue gas and dust, so it is necessary to use high temperature resistant fiber filter materials for filtration and purification.

Secondly, indoor air purification treatment mainly includes air purification system for biological clean room, air purification system for industrial clean room and common air conditioning system. Third, the field of medical and health protection, such as daily protective masks, medical protective masks and protective clothing.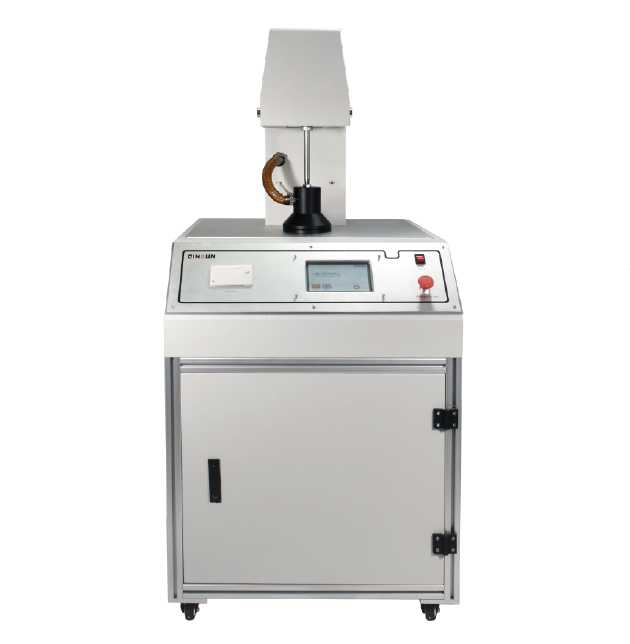 Test method of filtering characteristics
Particulate matter used in filtration characteristics test mainly includes: (1) various aerosols, such as solid aerosols such as NaCl and KCl, and liquid aerosols such as DOP, DEHS and paraffin oil; (2) Alumina particles with certain particle size distribution; (3) polystyrene latex microspheres; (4) Atmospheric dust;
Weighing method (or weighing method) is mainly used in industrial waste gas and dust emission treatment. With the increasingly strict requirements of environmental protection standards, all kinds of industrial dust emission requirements are below a certain limit, so it needs to be filtered by fiber filter materials before it can be discharged. It is mainly used for the filtration of waste gas and smoke emission in waste incineration plants, coal-fired power plants, cement plants, iron and steel metallurgy and other industrial fields.
The
automated filter media tester
method of dynamic filtration performance is to use a certain concentration of dust-containing gas to pass through the filter material sample a t a specified flow rate, and the dust accumulates continuously on the sample surface, resulting in an increase in filter material resistance. When the resistance reaches a certain value, the pulse gas will backwash the sample to clean the dust, and then the sample will continue to filter the dust-containing gas. After repeating for a certain number of times, record the resistance value and quality of each stage.
The dynamic filtration performance starts from the clean state of the filter material and continues to generate dust, which goes through the first stage (initial dust filtration stage), the second stage (aging treatment stage), the third stage (stabilization treatment stage) and the fourth stage (dust filtration stage after aging and stabilization) in turn. Each stage filters dust and includes dust removal action. After the four stages are finished, the residual resistance, dynamic dust removal efficiency and stripping rate of the filter material are tested and calculated.
The measurement results of dynamic filtration performance include: initial resistance, residual resistance, dust emission concentration, dust filtration efficiency, stripping rate, residual dust quality, pulse period, etc., as well as residual resistance changes after different stages of dust removal, dust removal cycle changes at different stages, and resistance changes at different dust removal cycles, etc.
2.2 photometer method photometer method is based on MIE light scattering theory, and its working principle is that the mass concentration of dust particles is linearly related to the response signal of luminous flux detector, and the photometer converts the light signal into electrical signal, which is amplified and reflected by voltage. Photometer expresses aerosol mass concentration by receiving scattered light of particles and measuring l uminous flux by light detector, which is also called optical mass concentration. During the test, an aerosol generator is used to generate airflow containing particles, which passes through the fiber filter material.
There are photometers on the upstream and downstream of the filter material to detect the aerosol conc entration on the upstream and downstream, and the filtration efficiency or penetration rate of the fiber filter material can be calculated from the aerosol concentration on the upstream and do wnstream. In addition, the differential pressure sensor of the instrument can measure the resistance on both sides of the filter material.
Generating solid aerosol or liquid aerosol by aerosol generator is a very common method to measure the filtration performance of filter materials. Common aerosols include NaCl aerosol, DOP aerosol, paraffin oil aerosol and so on. Photometer method can be used to test and characterize the protective effects of daily haze masks, N95 and N99 masks, medical protective masks and protective clothing on particulate matter.
2021-01-18 11:24