---
Air Flow Resistance Tester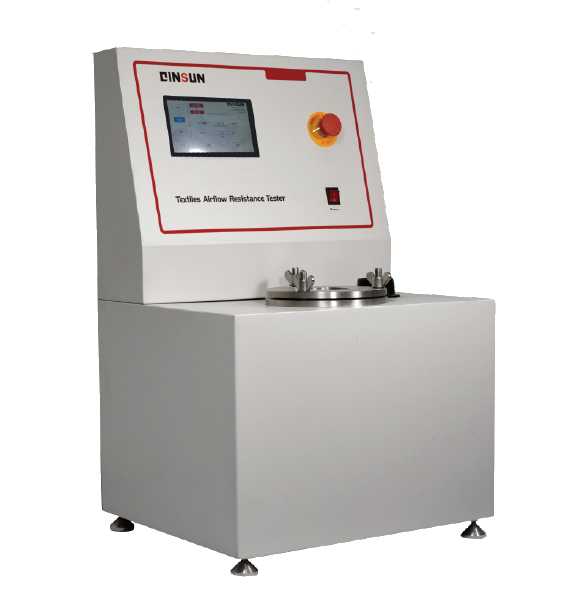 The textile airflow resistance tester is used to determine the anti-penetration properties of ordinary fabrics and medical protective masks to airflow at a constant flow rate . It is mainly used for the determination of air penetration of textiles ,cotton, and space cotton. The tester is one of the important means to identify the comfort and hygiene of clothing textiles, especially medical textiles.
BS En 14683-2005 Surgical masks - Requirements and test methods
GB 19083-2010 Technical requirements of surgical masks
GB2626-2006 Respiratory protective products-Self-priming filtering particulate respirator overview
YY 0469-2011 Surgical masks
YYT 0969-2013 Disposable surgical masks
1. Touch screen control, English menu, man-machine dialogue mode, easy to operate.
2. Built-in thermal printer to facilitate quick printing of test results on site.
3. High precision differential pressure sensor and digital flowmeter, high test accuracy.
4. Two modes of breath detection and breath detection can be set.
5. Automatic pipeline switching device of respirator solves the problem of pipe extubation and wrong connection when testing.
6. 3D printed standard head mold, which can simulate the real inhalation and exhalation of human body, and improve the accuracy of data.
Parameter:
| | |
| --- | --- |
| Flowmeter range: | 0 ~ 100L/min |
| Digital differential pressure meter range: | 0 ~ 1000Pa;Accuracy: 0.1 pa |
| Pumping capacity of air pump: | ≥100L/min |
| Data Storage | 500 groups |
| Power | AC220V 50Hz |
| Weight | 50KG |
Note:QINSUN always been committed to innovation and improve product performance and functionality, based on the reasons, the product specifications will be changed accordingly. The above without prior notice, the Company reserves the right to amend the final.