---
Hydropro Hydrostatic Head Tester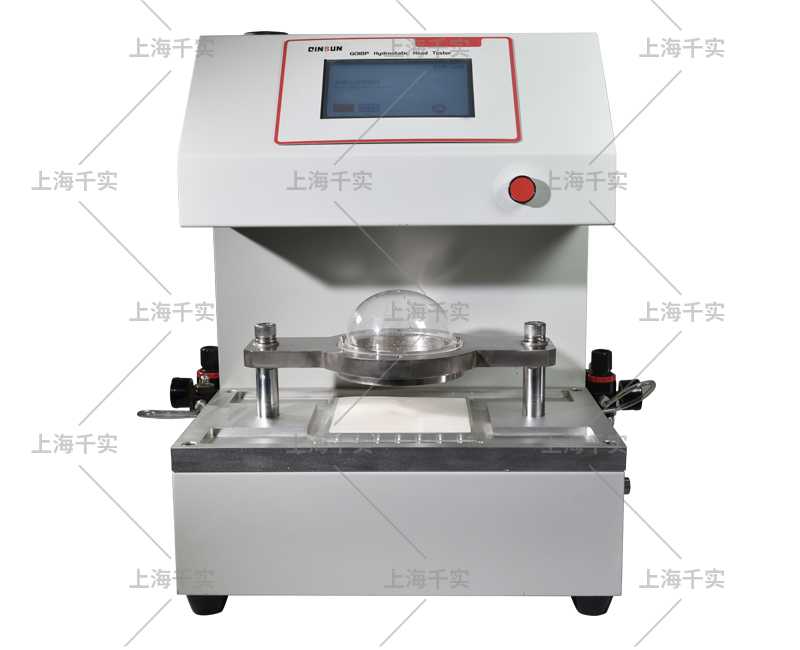 High pressure-servo Fabric Hydrostatic Head Pressure Test Machine is used to test the waterproof properties of fabric through waterproofing work such as canvas, coated fabrics,hood fabric, tarpaulin, rain-proof fabrics and geotextile.
AATCC 127 Option 2, ISO 811, ISO 1420, GB/T4744,FZT01004, DIN53886, JIS L1092, EN20811
1. The pressure using dynamic feedback regulation effectively prevent pressure overshoot.
2. Japan Panasonic servo motor and drive system, 16-bit A/D conversion.
3. Hydrostatic head tester -whole machine with aluminum alloy structure.
4. Sensor protection: automatic overload protection ( automatic switching of multi-sensor range).
1. Measuring range: 500pa-200kpa(5-2000cmH2O)
4. Pressure speed: 50--900mm/min (500pa-9kpa;5mbar-90mbar)stepless adjustable
6. Specimen holder Pneumatic Grip Dimension: 100cm2
7. External dimension: 600×400×780mm(L×W×H)
9. Power source: Ac 220V±10% 50HZ 100W or specified
Note:QINSUN always been committed to innovation and improve product performance and functionality, based on the reasons, the product specifications will be changed accordingly. The above without prior notice, the Company reserves the right to amend the final.