---
N95 Face Mask Material Meltblown Nonwoven Fabric Particle Filtration Efficiency (PFE) Tester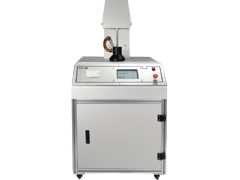 N95 Face Mask Material Meltblown Nonwoven Fabric Particle Filtration Efficiency (PFE) Tester



is applicable to the performance verification of new products , quality control of the production department, and the of material properties for the third-party testing organization, the product performance verification laboratory, and the quality and technic al supervisiondepartment, etc.
Application:
It is used for testing professional filter material and filtration efficiencyof a wide range of air filters including HEPA and ULPA filter, respirator, filter cartridge and protective clothing test. It also can use salt or oil mist to test filter media. Rapid acquisition of filter media performance evaluation parameters, and accurate evaluation of filter material quality, performance, life and so on. It is convenient to user for academic research and product development of new filter materials, product quality control, material performance verification.
Testing of Mask Material Filtering Performance:
With clean compressed air, the prepared NaCl solution or a similar solution such as DEHS/PAO are sprayed from the aerosol generator. After passing through a classifier (inertia principle), unneeded large particles are collected into the collection bottle, and particles meeting the requirements enter into the test system from the nozzle of aerosol generator.
Standards compliant:
NIOSH 42 CFR Part 84 Respiratory protection device;
EN 143 Respiratory protective device - particulate filters - requirements,
inspections and signs;
JMOL This protective mask standard;
GB 19083 Technical requirements for medical protective mask;
GB2626 Self-priming filter type anti-particle respirator;
GB 32610 Daily protective mask technical specifications.
Several Major Features:
Smart touch screen control + test report printing
PLC control system, more efficient and reliable, programmable 7-inch color LCD touch screen,Achieve a variety of functions such as control, detection, calculation and data display.
Multiple test fixtures:
The instrument has a variety of test fixtures that can test different types of masks.
High degree of automation:
The device is designed as a double control pneumatic clamping method, which is easy to operate and has high safety.
Powerful built-in function:
The equipment can test the penetration efficiency, penetration resistance and flow rate. At the same time, the flow pressure difference of the equipment can be set arbitrarily, thus satisfying various experiments, stable performance and good repeatability of test data.
Note:
QINSUN is very in place for textile testing and quality control,we have our own textile testing lab. Our
textile testing equipment
and testing methods are in the leading position in the industry. We have passed the textile testing certification and iso textile testing standards issued by a number of testing,We can provide
textile testing equipment pdf manual
. Sufficient inventory, big discounts, limited time promotion, Order now!