---
Microflow Porometer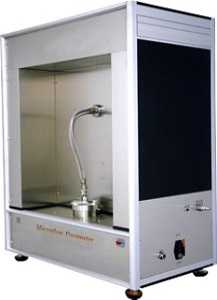 The PMI Microflow Porometer is a Capillary Flow Porometer with the ability to measure pore structure and permeability in nearly impermeable materials. This instrument is user-friendly and fully automated. The Microflow Porometer is an asset in quality control and R&D environments.
Operation Principle
In this instrument a pressure transducer is located on the downstream side of the sample and the time rate of pressure change in the known volume of the down stream side of the sample chamber is used to compute very small flow rates. The flow rate through dry samples is measured according to the differential pressure. Under the increasing pressure, the gas flows into the back of the completely wetted samples in the chamber. When the pressure increases enough to overcome the point where the capillary of the liquid works in the hole (maximum hole) , that point is the bubbling point. After confirming the bubbling point, increase the pressure and measure the flow until all the holes are empty and the sample is dry.
Application
The microflow porometer is mainly used to determine the characteristics of low permeability membrane (gas separation membrane). The instrument is suitable for packaging, rubber abd special gas manufacturing companies.
Applied industries:
Automobile manufacturing Battery separator Ceramics
Filtration Geofabrics
Nonwoven Paper
Pharmacy Textiles
Features
· Samples permitting very low flow rate can be tested
· Very low permeability can be measured
· Fully Automated
· Windows based simple operation
· Provide other optional features

Technical Parameters
| | |
| --- | --- |
| Items | Parameters |
| Pore Size Range | 0.013 - 500 microns |
| Permeability Range | 1x 10- 1x 10- (microflow in cc/sec/m/torr) |
| Sample size | 0.5" - 2.5" diameter |
| Pressure transducer range | 0~500psi |
| Resolution | 1 in 20,000 |
| Accuracy | 0.15% of reading |
| Pressurizing gas | Clean, dry, and compressed air or nonflammable and non-corrosive gas |
| Mass flow transducer range | 10cm/minute~500,000cm/minute |
| Power requirements | 110/220VAC,50/60Hz (Others Available) |
| Dimension | 30" H x 19" W x 18.5" D |
| Weight | 100lbs |
Note:QINSUN always been committed to innovation and improve product performance and functionality, based on the reasons, the product specifications will be changed accordingly. The above without prior notice, the Company reserves the right to amend the final.