---
Protective Clothing Against Acid and Alkali Tester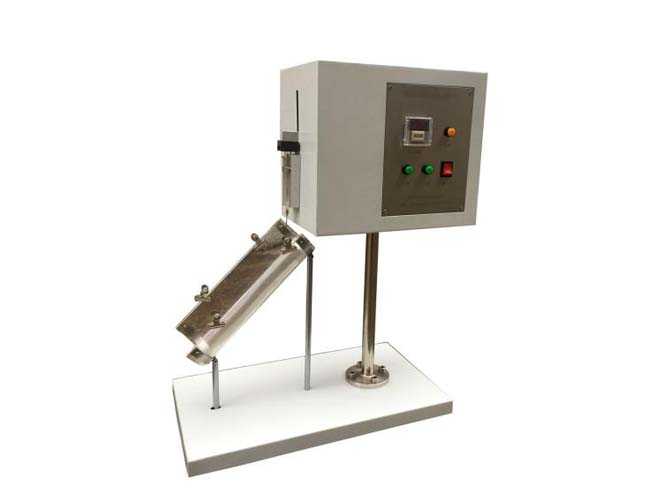 Protective clothing against acid and alkali tester is developed according to latest GB24540-2009 《protective clothing-acid and alkali chemical protective clothing》. Sorted by the inspection items, this device can be divided to static acid pressure tester, acid and alkali repellant tester, and acid penetration time tester. It is mainly used to test the against acid and alkali performance of the protective clothing. Widely used in protective clothing manufacturing enterprise and every quality testing bureau Protective clothing chemical resistance tester is mainly used to test the breathable type protective clothing anti acid and alkali performance. The testing liquid flow on the surface of the specimen, check whether the liquid retention or penetration, and calculate the anti acid and alkali index.
Application
It can be used for waterproof moisture-penetrability testing of high density fabric, laminated fabric, coating fabric and other materials , such as canvas, felt, tarpaulin , cover cloth, airtight fabric, outdoor sports material, umbrella testing and waterproof material testing et. It can be also used to anti body liquid and anti-blood penetration testing for medical protective clothing, anti chemical liquid penetration testing for chemical resistant protective clothing penetration performance testing of ventilate waterproof non-woven fabrics or filter fabrics, it can be also used for anti permeability testing of paper and carton .
Standard
GB 24540-2009《protective clothing against liquid acids and alkalis 》Appendix D
ISO 6529-2013 Protective clothing-protection against chemicals-determination of resistance of protective clothing materials to permeation by liquids and gases.
BS EN 463-1995 Protective clothing-protection against liquid chemicals- Test method determination of resistance to penetration by a jet of liquid (Jet test)
BS EN 468-1995 Protective clothing– protection against liquid chemicals, performance requirements for chemical protective clothing with spray-tight connections between different parts of the clothing( type 4 equipment)
Features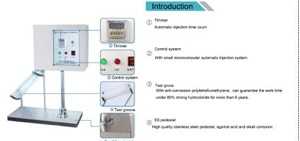 Technical Parameters
| | |
| --- | --- |
| Item | Parameters |
| Half cylinder type PTFE | Can be corrode by 80% strong hydrochloride for over 6 years |
| Transparent groove | Internal diameter(125±1)mm,L(300±0.5)mm,Incline 45° |
| Injection syringe | Capacity(10±0.2)mL,Pinhole diameter(0.8±0.01)mm |
| Little beaker | Capacity is of 50 mL |
| Flat head needle tip | Bottom to groove bottom :100mm |
| Specimen size | (360±2)mm×(235±2)mm |
| Micro computer auto injection system | (Special computer board card control, accurate and reliable) |
| Jet velocity | Within 10±0.2 s spray continuously (10±0.2)ml liquid |
Note:
QINSUN is very in place for textile testing and quality control,we have our own textile testing lab. Our
textile testing equipment
and testing methods are in the leading position in the industry. We have passed the textile testing certification and iso textile testing standards issued by a number of testing,We can provide
textile testing equipment pdf manual
. Sufficient inventory, big discounts, limited time promotion, Order now!