Site:
Home
>
News and events
>
Comparison of Leather and Artificial Leather

What is leather? Leather is a solid, durable material that is made from animal skins through a series of physical and chemical treatments.
Leather has a series of other materials do not have the characteristics, such as thermal stability, cold resistance, permeability and so on.
So the leather has been favored by the people. At the same time, leather in our daily life has an irreplaceable position.
People made of leather into clothing or daily necessities.


In people increasingly favored leather products, illegal traders secretly hunting rare animals, resulting in the original rare animals become more precarious. The state also cracked down on hunting animals by acquiring animal fur for processing high prices to sell to earn high profits. This illegal act not only in the moral condemnation, but also in the law to severely punish, in order to effectively protect the animals. At the same time, we should also self-reflection, we buy these with animal fur made of leather goods at the same time whether it is those who violate the hunter's accomplice. Perhaps there is no harm to the sale of animal fur. So each of us must be responsible attitude to resist the purchase of those who get through the hunting of animal leather products. Did not buy, there is no profit can be no more so rare animals were hunted. At the same time with the progress of technology and people to raise awareness of animal protection, artificial leather also came into being.


Of course, with the improvement of technological level, tannery technology has been the development of new materials have also been developed, artificial leather can rely on science and technology research and development, less of those illegal hunting situation. With the social progress and economic development, people's living standards continue to improve, the successful development of artificial leather, making the demand for leather products market is also increasing. People in the purchase of leather products, more and more attention to leather quality problems. In order to meet the growing demands of people, continuous development and testing of leather products performance has become more important. Leather through continuous testing, to provide accurate test data to better guide the production of practical activities, research and development to meet consumer demand.


Here we have a comprehensive understanding of the common physical properties of leather and its specific test methods. First of all, we come to understand the classification of leather: leather classification because of the complex and diverse, difficult to understand. We choose a relatively simple and easy to understand the classification method to help understand. This classification method is also our common habit of classification method, is divided according to the type of leather: mainly divided into natural leather and artificial leather.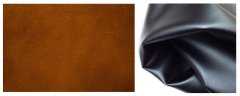 So what is natural leather? Natural leather is what we usually say "leather" - there are leather, sheepskin, pigskin and other components, these three kinds of animal leather is used in the three leather raw materials. The artificial leather is the so-called "fake leather" - is PVC and PU and other man-made materials in general. In fact, is the basic chemical raw materials through scientific and technological means of synthetic materials.


2017-04-21 17:40