Site:
Home
>
News / Faq
Tips for using the five-finger scratch tester 710

Air, movable platform;
Regulator operation control
Five-axle scraper with finger code
Nine weight settings (2N, 3N, 4.5N, 5N, 6N, 7N, 10N, 15N, 20N)
Exchangeable scraping and scratching tools
Favorite spring images
Detachable test bench protection board
Illustrate the electron generation in 1/100 second
Air conditioning controller with internal protection
Scratch technique:
Each Multi-Finger Scratch / Mar Tester includes a set of five hemispherical scratch tips with a diameter of 1.0mm and a hemispherical scratch tip with a diameter of 7.0mm. Both include a precision tungsten carbide ball mounted on the contact end. The optional tapered scraper tip also has tungsten carbide (0.1 mm; 0.25 mm; 0.4 mm and 0.5 mm diameter) or diamond (90° 3mil or 90° 3.5mil radius point).
Evaluate
Depending on the type of material being evaluated, the visual appearance of scratches usually involves changes in surface topography, color, or brightness. Three methods are generally used:
Visual Evaluation-For this technique, the observer uses a controlled light source to visually inspect each scratch line and score on a scale of 1 to 5 (1 = no scratches at all; 5 = severe scratches). For plastic materials, please indicate whether the line shows signs of whitening.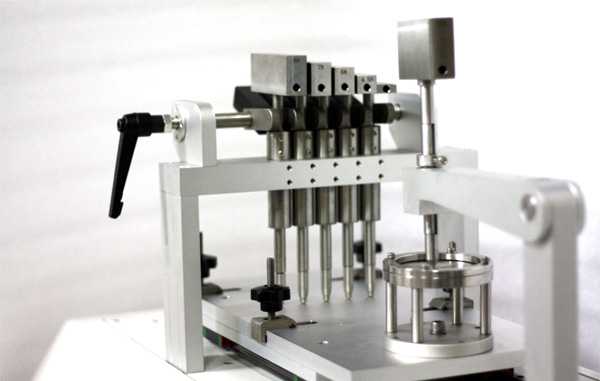 Width/Depth-The operator uses an optical measuring device (such as an optical micrometer) to measure the width and/or depth of the scratch.
Image analysis-Another option is to use image analysis techniques, such as SEM.
When describing scratches or abrasions, it is recommended to describe them in detail. Items that may be described include surface topography, material deformation, material removal, and color change. The following examples have been used to describe damage in plastic:
Shallow (or deep) scratches
The scratches are smooth and the shape is clear (or rough and deformed)
Scratches include plastic flow of materials (or cutting, tearing, cracking, chipping, cracking)
Scratches include ripple marks visible at the bottom (i.e. herringbone or parabola)
Strain bleaching is visible (or no change in color)
Note: The characteristics of plastic materials will greatly affect the evaluation of scratch resistance and scratch resistance. It is important to understand and consider the following factors. For repeatable results, define whether to evaluate immediately after the scratch test or after a set time (for example, 24 hours).
Many plastics recover elastically after removing the applied stress.
Many plastics are viscoelastic, and the stress in the plastic may relax during loading.
Plastics may change their structure during material flow, which also changes the mechanical properties of plastics.
Test Methods:
The following link provides a list of test methods that Taber Multi-Finger Scratch / Mar Teter satisfies. Please note that additional accessories may be required.
Testing service:
Taber Industries has extensive experience in testing physical properties, including abrasion resistance (abrasion), scratches and abrasions, and material stiffness. You can take advantage of this expertise through the "TABER-Test" program. Whether you are designing a new product or need a fair laboratory evaluation, we can help. Our knowledge includes testing various materials; understanding evaluation standards and supplier requirements; and participating in trade associations and testing method development.
In addition, Taber Industries obtained the ISO/IEC 17025:2017 certification (certification number 102863; certificate L21-138) from Perry Johnson Laboratory Accreditation, Inc.
Comply with ISO/IEC 17025:2017 standard for laboratory certification. This standard is used to manage the laboratory's quality management system (audit and corrective action procedures) and requires compliance with strict technical requirements. The technical capabilities of the Taber test laboratory are evaluated and determined to produce consistent, precise and accurate test data.
Our experts will analyze your material and provide a detailed report of our investigation results. The report is specific to your company and usually includes test setup, test procedures, test observations, photos, and brief data analysis. The cost of this service depends on the type and number of tests requested.
2021-10-12 09:10