---
Fabric Bursting Strength Tester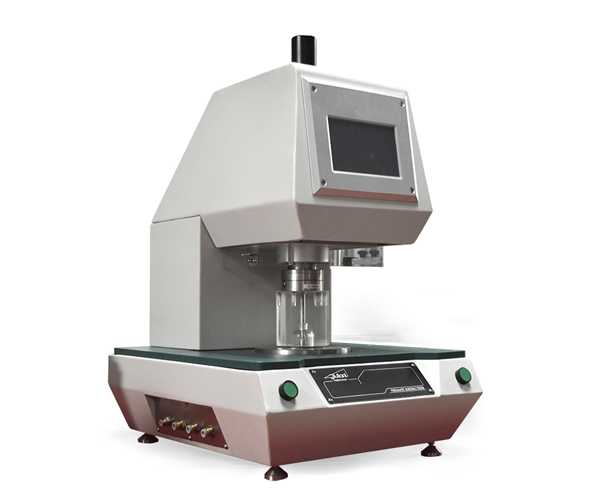 Bursting Strength Tester, to test the bursting strength of paper, woven or knitted fabrics, non-woven, fabric and board by the of hydraulic load under a Bursting tester diaphragm of a specific area.
Fabrics that must bear weight or withstand forces should be tested with a bursting strength tester, before they made into final products like truck covers, tarps, trampoline fabric, pool covers, compactor curtains, agricultural bagging applications and etc., to ensure the bursting strength meet the required requirement.
Digital bursting strength apparatus provides with a digital readout of pressure with peak hold facility, renewable rubber diaphragms. Automatic clamping device with a clear acrylic bell, an LED lamp is equipped for easy observation.
Interchangeable test bells and clamping ring sets 7.3cm2 (Φ30.5mm/l.22inch), 10cm2 (Φ35.7mm), 50cm2 (Φ79.8mm), 100cm2 (Φ112.8mm).
Bursting strength testing machine is provided with three test methods, Constant speed bursting, Certain pressure bursting and Certain extension.
This bursting tester is also called mullen bursting tester because its testing procedure is commonly called Mullen Burst Test, during which the specimen is clamped across a dia. 1.22 inch ring, and a rubber diaphragm below is inflated to push against the specimen until it ruptures.
Unlike mullen test, there is another kind of burst test called ball burst test, if that is what you need, please refer to this tester.
1, using hydraulic method, in line with the international standard.
2, touch screen control, the interface is simple and easy to understand, easy to operate intuitive, touch sensitive.
3, pneumatic clamping, clamping evenly, and adjust the fixture pressure, to avoid the sample slip or damage, easy to use.
4, the test cover for the high transparent plexiglass, built-in LED lighting, can clearly observe the experimental sample process. Which is a magnet Installation, replacement easy disassembly.
5, automatic induction blasting system, sensitive and reliable.
6, outside the organic glass cover, to prevent the folder wounding, the use of more secure.
7, the use of AC servo drive system, synchronous pulley drive, the instrument running low noise, wide speed range, high operating accuracy.
8, the use of high-speed AD and processor, sampling frequency is high, high test accuracy.
9, the only domestic: fixed speed burst, set pressure, set the expansion, set the time of four test methods.
10, the instrument comes with a thermal printer can print directly report, and support with professional computer software online work.
ASTM 3786-06、ISO 2758、ISO 13938-2、BS 3424
BS 3137、BS 4768、AS 2001.2.4、GB/T 7742
IWSTM 29、EDA NA 80.4-02、EDA NA 80.3-99、BS 2922
FZ/T 60019、JIS L 1018.6.17、NEXT 22 2206、FZ/T 01030
Test range

2.00Mpa

10.00Mpa

Minimum scale value

0.001Mpa

0.003Mpa

Measuring range

full scale 1% ~ 100%

Pressure accuracy

≤ 0.2% FS

Accuracy of expansion height

≤ 0.2% FS

Test area

7.3 cm² (dia.30.5mm), 10 cm² (dia.35.7mm)

50 cm² (dia. 79.8 mm), 100 cm² (dia. 112.8 mm)

The maximum expansion

75

Pressure rate

20-600ml / min

Pressure units

kPa, kg / cm2, bar, lb / in2

Power

AC220V / 50Hz

Dimensions

550 × 450 × 700mm
Note:
QINSUN is very in place for textile testing and quality control,we have our own textile testing lab. Our
textile testing equipment
and testing methods are in the leading position in the industry. We have passed the textile testing certification and iso textile testing standards issued by a number of testing,We can provide
textile testing equipment pdf manual
. Sufficient inventory, big discounts, limited time promotion, Order now!