---
Face Mask Tensile Testing Machine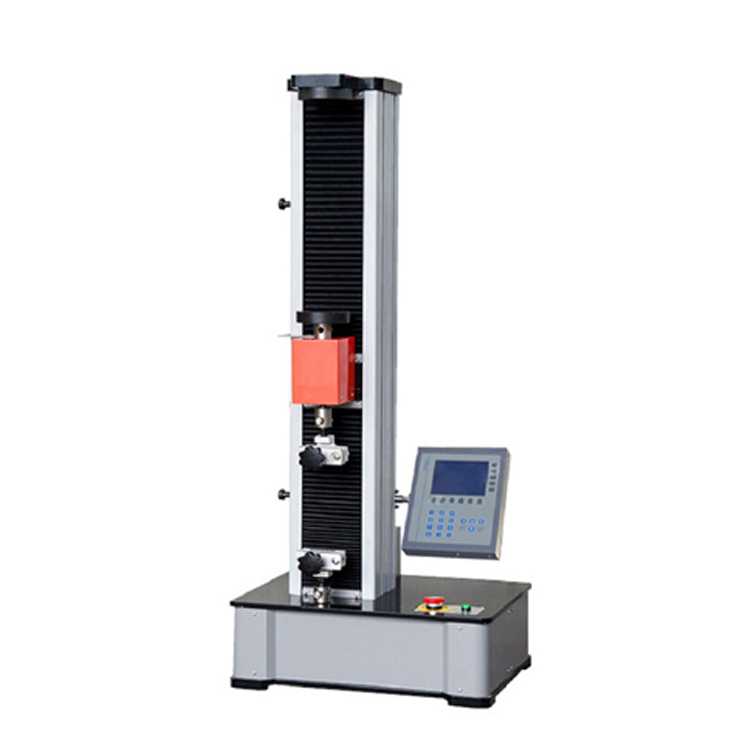 Application:
This Masks Universal Tensile Strength Tester is designed for conduct tensile, compression, bending, shearing, bonding strength, peeling, tearing and other tests for rubber, plastic, leather, metal, nylon line,yarn,fabric,paper,aviation, package, construction, petrifaction, electrician, vehicle and other materials.
Standards:
ISO13934-1,13934-2,13935-1,13935-2,13936-1,13936-2,13936-3,13937-2,13937-3,13937-4,1421, 2411, 2062, 4674-1,5082, 9073.3, 9073.4, 9073.18
BS 2543, 2576, 3320, 3424, 4303,
M&S P11, P12, P13, P14
JIS L1096
ASTM D 434, D751, D885, D1683, D2256, D2261, D2724, D2731, D3787, D4034, D4964, D5034, D5035, D5587, D5733, D5735.
Feature:
1、Flexible and various interfaces and control methods, which can be used for multiple tests such as stretching, peeling, heat sealing, tearing, puncture, compression, bending, shearing, etc., setting of multiple parameters such as speed, thickness, and pinch.
2、High measurement accuracy, the test measurement accuracy can reach 0.5 grade.
3、The whole process is controlled by a computer, and the test is displayed online after the test. It can automatically perform data storage, data analysis and comparison functions, curve overlay recording function, on-line printing function, arbitrary zoom function.
4、The full digital control system cooperates with imported AC servo system and motor to control the zero displacement.
5、High-precision ball screw loading, stable loading, long testing machine life, long-term stability and energy saving.
6、Load / deformation measurement: With multiple sub-channels, it supports extended measurement of multiple sensors.
7、Wide speed range, suitable for high and low speed tests.
8、Open data structure, whether it is result parameters or process data, allows users to call randomly, users are very convenient. Self-editing report function, the data can be easily imported into an Excel table for easy post-processing.
9、Control and measurement unit can choose built-in type (simple appearance, save space) and external type (easy to upgrade, maintain and operate separately from the computer).
10、Have perfect limit protection, overload protection, emergency stop and other safety protection functions. Make the test run safe and reliable.
11、High sampling rate (100 times / second), make the test data more accurate.
12、The core uses imported parts, which is more accurate and more durable
13、Double-column table structure, beautiful and elegant, good rigidity.
14、Optional pneumatic fixture, suitable for a variety of fixtures.
parameter:
Test force range:0~500N (0~1500N optional ), 1400% elongation
Test accuracy:Within ±0.5% of the displayed value (grade 0.5)
Test speed:1-500mm/min (infinitely variable speeds)
Displacement:Within ±0.5% of the displayed value
Test width range:30mm (50mm can be customized)
Travel distance range:750mm
Instrument size:460mm×525mm×1430mm
Power:1000W
Power supply:AC 220V 50Hz
Weight:86kg


Note:QINSUN always been committed to innovation and improve product performance and functionality, based on the reasons, the product specifications will be changed accordingly. The above without prior notice, the Company reserves the right to amend the final.