---
Syringe slide performance tester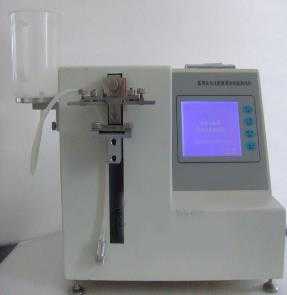 Introduction of syringe sliding performance tester:
5.7-inch (120 x 90) single color LCD touch screen, Chinese menu display. The nominal capacity of the syringe is selected by the keyboard and the starting force and average are shown in real time.
Force, push back the maximum force, push the minimum force and the core bar movement and force record chart, and by the airborne printer to print the test result.
The special tester for sliding performance of syringe is composed of intelligent controller, measuring mechanism, ranging mechanism, printer, etc. The intelligent controller consists of CPU, motherboard, LCD screen, keyboard and power supply.
The screen is displayed in all Chinese Windows, and the keyboard is used to control the cursor to select, operate, and set, without training, and can be used according to the prompt operation.
Working temperature: 5 ~ 40 ℃
Relative humidity :(45 ~ 80) %.
Power supply voltage: 220V plus or minus 22V.
Power grid frequency: 50HZ + + 1HZ.
Using 320 x 240 single color LCD display, all Chinese Windows display.
The keyboard is used to control the menu on the LCD screen and the analog keyboard on the LCD screen.
Instrument loading range: 0 ~ 40N, accuracy: + + 0.1.
Experiment speed: 100mm/min + 5mm/min.
Part list of sliding performance tester of syringe:
2. Printing paper 1 roll.
6. Operation instructions
7. The instrument is free to upgrade service according to national standards.
Note:
QINSUN is very in place for textile testing and quality control,we have our own textile testing lab. Our
textile testing equipment
and testing methods are in the leading position in the industry. We have passed the textile testing certification and iso textile testing standards issued by a number of testing,We can provide
textile testing equipment pdf manual
. Sufficient inventory, big discounts, limited time promotion, Order now!