---
Ureter connector separation force tester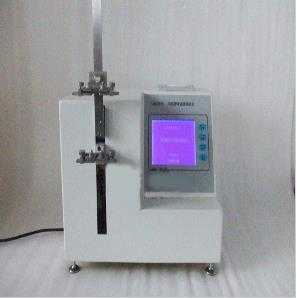 Ureter connector separation force tester is suitable for the plastic film, sheet, rubber, paper plastic composite film, paper, medical
patches, protective film, from the type of products such as aluminum foil paper, non-woven fabric, tensile properties, tensile strength,
modulus of elasticity, fracture nominal strain, right Angle tear, bounding strength, 90 shed, shed 180 index quantitative test.
GB1040、GB8808、GB4805、GB7753、GB 7754、GB 453、GB/T17200、 GB/T16578、 GB/T 7122、GB/T 2790、GB/T 2791、GB/T 2792、ASTM E4、ASTM D828、
ASTM D882、ASTM D1938、ASTM D3330、ASTM F88、ASTM F904、ISO 37、JIS P8113、QB/T2358、QB/T 1130 etc;
integrate patent and other various Proprietary intellectual property technology in one;
Computer, embedded system compound control, modular software support;
High performance imported servo drive system, accurate speed and displacement;
Stepless speed regulation, speed can be set continuously, software operation Settings;
High precision imported force sensor, high precision test results, good stability repeatability;
50N, 100N, 250N, 500N and 1000N multi-test range can be selected;
Software humanization design, easy to operate, that is to learn;
Support GB, ASTM, ISO standard method test;
Support various non - standard test method, is scientific research, material research good assistant;
Energy-saving and environmental protection design, ultra-low power consumption;
Tensile, tensile force, fracture nominal strain, thermal strength, tear, stripping and other test items;
Data statistical analysis function of maximum value, minimum value, mean value, result dispersion, variance, etc;
Mechanical, electrical, software multiple protection function, maximum security;
Configure standard serial communication port;
Support Ethernet communication, convenient data networking (optional)
Barcode scanner (optional);
The value of experimental data can be mined to the maximum extent through supporting computer software;
Support DSM laboratory data management system to achieve unified data management (optional);
Test range: 0 ~ 50N, 100N, 250N, 500N, 1000N (other range can be customized)
Test precision: better than 0.5.
Test speed: 0.1mm/min ~ 1000mm/min (continuous adjustable, software setting)
Displacement accuracy: better than 0.01mm.
Sample width: 0 ~ 38mm (standard fixture)
Sample thickness: 0 ~ 8mm (standard fixture)
Power rate: 300W (maximum servo power)
Main engine, supporting software, servo system, standard fixture, communication cable.
Note:QINSUN always been committed to innovation and improve product performance and functionality, based on the reasons, the product specifications will be changed accordingly. The above without prior notice, the Company reserves the right to amend the final.