---
Full automatic liquid penetration tester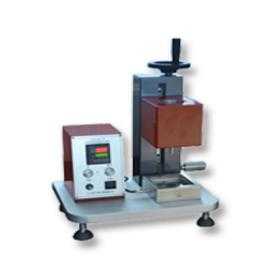 To determine the penetration performance of various types of nonwovens.
FZ/T60017《A method for the penetration test of thin nonwoven fabric in hygienic use》、GB/T24218.8《Determination of liquid penetration time》
1. The machine outside use high quality metal baking paint;
2. The sample surface is made of imported special aluminum profiles, with light material, smooth surface and never rust;
3. The instrument adopts imported special aluminum drawing panel with metal buttons;
4. The instrument is equipped with imported watch head;
5. Special organic glass is used for special processing to guarantee the weight of 500g + 5 grams;
6. Large-capacity burette, more than 100ml;
7. The moving stroke of the burette is 0.1---150mm;
8. Burette movement speed is about 50--200mm/min;
9. Penetration disk with precise positioning device;
10. The sample clamping can be directly improved through the disc and equipped with positioning and fixing devices;
11. Special white gold wire material was used to process the disc electrode.
12. The penetration disc is equipped with a quick connection interface, which can be added to the disc for easy replacement.
13. The liquid release of the instrument is equipped with automatic releasing device, which can realize automatic control;
14. The fluid flow rate is controlled in 6 seconds with a flow of 80ml, and the error is less than 2ml.
Note:
QINSUN is very in place for textile testing and quality control,we have our own textile testing lab. Our
textile testing equipment
and testing methods are in the leading position in the industry. We have passed the textile testing certification and iso textile testing standards issued by a number of testing,We can provide
textile testing equipment pdf manual
. Sufficient inventory, big discounts, limited time promotion, Order now!