---
G506 Mask Automatic Filter Performance Tester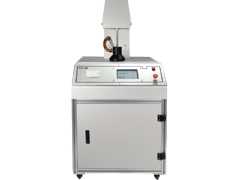 Description:
The latest G506 mask automatic filter performance tester uses the most advanced technology and design concepts, to meet a variety of test standards and the latest National standard GB / T 32610.Only relatively little operation is required to
complete all the function and operation
. Hardware performance of G506 mask automatic filter performance tester is stable and excellent in repeatability. Software design meet with people's thinking mode, the interface is user-friendly, and the functional and parameter settings are very reasonable. It is convenient to user
for
academic research and product development.

Application:
G506 Mask Automatic Filter Performance Tester is used for
testing
professional filter material and filtration efficiencyof a wide range of air filters including HEPA and ULPA filter, respirator, filter cartridge and protective clothing test. It also can use salt or oil mist to test filter media. Rapid acquisition of filter media performance evaluation parameters, and accurate evaluation of filter material quality, performance, life and so on. It is convenient
to user
for
academic research and product development
of new filter materials, product quality control, material performance verification.

Standards
EN 143 Protection device, particle filter requirement, test, mark
EN 149 Respiratory protection device, microparticle filter with half mask required test mark
NIOSH 42 CFR Part 84 Respiratory protection device
GB/T 2626 Self - priming filter type particulate respirator of Respiratory protective equipment
GB/T 32610 Technical specification for daily protective masks

Structure principle
G506 mask automatic filter performance tester, composed of the following key components;
1. Salt oil mist aerosol generator;
2. Heater and mixer;
3. Aerosol charge neutralizer;
4. Particle counter or laser scatter photometer;
5. Sample holding device;
6. Pressure drop measuring device;
7. Temperature, humidity, atmospheric pressure sensor;
8. Filtration systems, vacuum pumps, and discharge systems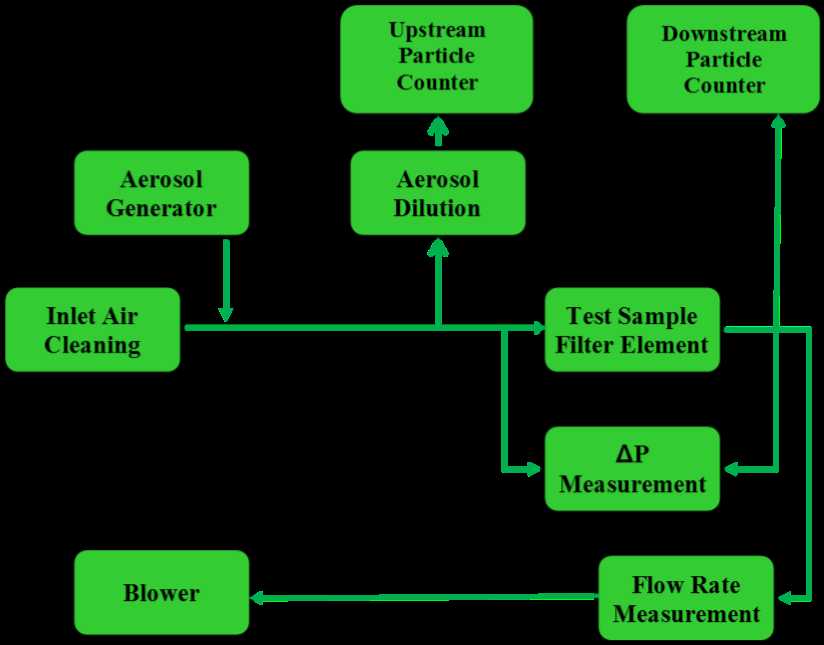 Test principle
Clean compressed air will carry pre-prepared solution such as NaCl solution or DEHS / PAO from the aerosol generator. After a classifier , unwanted large particles are collected into the collection bottle, wanted aerosol particles are sprayed from the aerosol generator nozzle into the test system.

Before the aerosol reaches the test media, it emitted by the aerosol generator requires two procedures; 1. The aerosol salt particles are produced by mixing with the heated gas (for salt mist).2. To neutralize the aerosol is by electrostatic neutralizer, which is used to reduce the effect of particle loss and static electricity on the test results.

After two procedures above, aerosol with a certain flow rate to reach the test filter surface, and start the test program. For the filter efficiency test, the test time is very short, only need a few seconds to complete a filter test. Experiments for loading experiments are relatively long.

The mass concentration or mass concentration of aerosol upstream and downstream of the filter media was measured by particle counter or laser scattering photometer, and the filtration efficiency was calculated. The pressure drop across the filter was monitored by differential pressure sensor

Main monitoring quantity
Aerosol electrostatic neutralization effect monitoring;
Downstream aerosol concentration monitoring;
The flow of the test;
Pressure drop on both sides of the filter;
Filter resistance;
Upstream aerosol concentration monitoring
Temperature, humidity, atmospheric pressure
Aerosol generation gas supply pressure;
Filtration efficiency / transmittance;

Technical Parameters
Items

Parameters

Type of aerosol

Emery 3004,DOP,DEHS, Paraffin

NaCl

Average mass diameter

0.33um

0.26um

Average number of diameters

0.20um

0.07um

Geometric deviation

<1.6

<1.83

Aerosol concentration

50-200mg/m3
15-20mg/m3 70L/min

Aerosol monitoring

Laser scatter photometer or particle counter

Monitoring range

1.0ug/m3-200mg/m3

Flow monitoring

Vane flowmeter with pressure sensor

Monitoring range

15-100L/min

Monitoring accuracy

2% of full scale

Pressure monitoring

electronic pressure sensor / differential pressure sensor

Monitoring range

0-15cm H2O

Monitoring accuracy

2% of full scale

Filtration efficiency measurement

The flow of through filter material

15-100L/min

Measurement accuracy

Penetration rate 0.001%; filtration efficiency of up to 99.999%;

Automation and electrical control and data acquisition

Microprocessors

Output

LED display;RS-232 communication interface

Operational requirements

Power supply

100-120VAC 60Hz 5A or 230-240VAC 50Hz 2.5A

Compressed air requirements

80 psig 7scfm (550kpa, 198std L/min)

Aerosol vents requirements

7scfm (198std L/min)

Environmental requirements

10-50 degrees, no condensation, no wet environment Size 80 * 100 * 150cm

Weight

100kg

The noise level

Less than 75dB
Note:QINSUN always been committed to innovation and improve product performance and functionality, based on the reasons, the product specifications will be changed accordingly. The above without prior notice, the Company reserves the right to amend the final.