---
Automatic Filter Measuring Device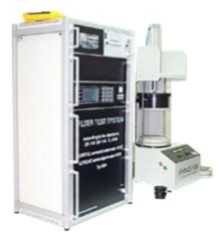 The filter measuring device consists of 2 components: Filter measuring device FMP 03 and universal filter holder FH-143/149 automatic. The automatic measuring set FMP03 + FH is suitable for quickly testing particle filters and filter media.

Applications
For production controls and type testing, e.g. testing filter respirators and filtering half-mask face pieces with liquid paraffin aerosol according to standards EN 143 and EN 149.
Leak testing and filter resistance tests on particle filters to a maximum diameter of 200 mm. Very good correlation to corresponding measurements according to EN 1822.

Features
· Short testing times (approx. 10 seconds per filter) and extremely simple operation
· The separation efficiency and filter resistance of the sample are determined in a sample clamp.
· The plant process control computer carries out the test on its own according to the user's specifications.
· The test is carried out automatically according to the specified test standards, either with a fixed or different volumetric flows, with uniform or different aerosol concentrations or with uniform or different flow directions.
· The process control computer assesses the sample.
· The only thing the operator has to do is insert and remove the sample.




Note:QINSUN always been committed to innovation and improve product performance and functionality, based on the reasons, the product specifications will be changed accordingly. The above without prior notice, the Company reserves the right to amend the final.