---
Automatic Filter Tester 3140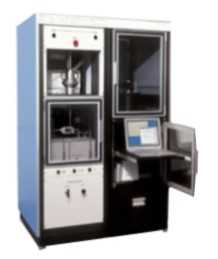 The automatic filter tester can measure the filtration efficiency of the filter protection devices and materials quickly and accurately. It is an oil aerosol tester. It produces oil aerosol without heat, so a variety of oils can be used. Two Condensation Particle Counters (CPCs) simultaneously count upstream and downstream particles.
Test System
· Fully automatic control of work condition without manual checking.
· No need of manual checking saves time and reduced labor cost to the greatest extent.
· User-friendly test interface, guided settings to avoid misoperation.
· Advanced detection accessories ensures the reliable test results.
· Consecutive operation reduces system downtime and the workload of operators.
Basic Structure
· Dust generating system: Compressed filter air system matched with the aerosol generator provides a certain amount of test powder.
· Test duck: Main test duck and sample clamp.
· Monitoring and adjusting system: Pressure monitoring and adjusting provide dynamic test environment.
· Result display and analysis system: Monitor the penetrated aerosol and display the test results
Features
· Simple, fast and automated operation
· Highly consistent test results
· Designed for manufacturing environments
· Service and support
Technical Parameters
| | |
| --- | --- |
| Items | Parameters |
| Test application | Quality control test |
| Maximum efficiency | 99.999999% |
| Aerosol type | DOP/PAO/DEHS/Paraffi/other oily aerosols |
| Aerosol generating mode | Spray |
| Count median diameter | 0.19 μm |
| Geometric standard deviation | <1.6 |
| Flow rate | 5-100L/min |
| Resistance | 0-150mm H2O(0-1470Pa) |
| Particle detection | Condensing nuclear particle counter |
| General test duration | <1min |
| Data report | PC built-in integrated software |
| Operation | Independent tester |
| Standards | N/A |
| Power source | 115VAC、60Hz,10A or 230VAC、50Hz,5A |
| Pneumatics | 7m3/hr,415kPa(4 scfm 60 psi) |
| Dimension | 183cm x 122cm x 81cm (72in. X 48in. X 32in.) |
Note:
QINSUN is very in place for textile testing and quality control,we have our own textile testing lab. Our
textile testing equipment
and testing methods are in the leading position in the industry. We have passed the textile testing certification and iso textile testing standards issued by a number of testing,We can provide
textile testing equipment pdf manual
. Sufficient inventory, big discounts, limited time promotion, Order now!