---
Capillary flow porometer Porometer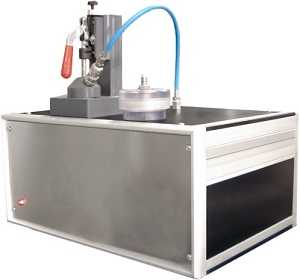 The capillary flow porometer includes a unique moving sample chamber. The sample room can be connected to a large sample or to a sample that can slide in the sample room. The use of this instrument eliminates the risk of breaking bulk products by cutting samples.
Principles
Fully wet test material position. Tighten the material in the sample room and slowly increase the pressure at the back of the sample to replace the fluid in the hole and increase the flow. According to the air pressure to determine the air flow rate, the pore structure characteristics are calculated through these data.
Applications
The capillary flow porometer is an ideal device for the on-line test sample and the undamaged large sample. The device is robust and easy to use, and the test is very fast and reproducibility. Process control is an important application of this equipment, from the filtering industry to the world of battery industry, which is used to carry out R&D and quality control with clamp-on porometer. Frequently tested materials include: filtration medium, film, non-woven fabric, paper, powder, ceramic and battery separator.
Applicable industry:
Automobile manufacturing
Battery baffle
Chemicals/Ecology
Filter Food & Beverage Geotextiles
Features
◆ Automatic operation, simple operation.
◆ Microsoft based control.
◆ The tests were quick and each trial took only a few minutes.
◆ Very few operators need to step in.
◆ High reproducibility.
◆ Minimum maintenance.
◆ Economic benefits.
◆ Sample can be tested online.
◆ You do not need to cut the sample to damage the sample.
◆ Experiment on multiple bits without any damage to determine the product consistency.
Technical Parameters
| | |
| --- | --- |
| Items | Parameters |
| Pressure Range | 20psi |
| pressure accuracy | 0.15% reading |
| Flow rate | 200SLPM (standard litre per minute) |
| Pressure and flow resolution | 1 part in 60000 |
Note:QINSUN always been committed to innovation and improve product performance and functionality, based on the reasons, the product specifications will be changed accordingly. The above without prior notice, the Company reserves the right to amend the final.