---
Jet Fuel Filter Test Stands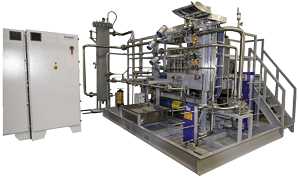 The Jet Fuel Filer Test Stand performs dirt capacity testing of aircraft fuel filter elements per SAE procedure ARP1827B. The fully automated system provides precisely controlled test conditions for accuracy, repeatability and operator safety.
Applications
SAE Aerospace document ARP1827B (Revised 2009-10) prescribes the testing apparatus and test procedures for evaluating the dirt capacity and element efficiency for jet fuel non-cleanable (disposable) fine fuel filter elements used in aviation gas turbine engine fuel systems.
The nominal flow capacity for the test stand is 20 to 150 gpm. Other flow ranges are available. The maximum recirculated flow rate is 80% of the total flow.
The maximum test article differential pressure is 125 psid. Military Specification MIL-E-5007D specifies the contaminants used. Contaminate is introduced by a variable speed belt feeder up to a maximum concentration of 50 grams/1000 gallons.
Water injection flow is 0.01 percent of fuel flow as specified by the Mil Spec or .002 to .015 gpm (7.6 to 56.3 mlpm).
Note:QINSUN always been committed to innovation and improve product performance and functionality, based on the reasons, the product specifications will be changed accordingly. The above without prior notice, the Company reserves the right to amend the final.