---
New Oil Thread Test Device for Particle Filters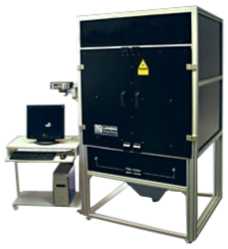 The new oil thread test device uses a new technique for testing particle filters in accordance with EN DIN 1822. The new device uses state-of-the-art video and laser components in combination with a PC-based image processing software to detect leaks.

Advantages
· In our new system we've replaced the human eye with a high-sensitive video camera. The camera is mounted inside a light tight cabinet directly over the adapter plate which holds the filters to test.
· The detection of leaks is performed by a personal computer and our special image processing software.
· This new concept is space-saving, time-saving and detects every leak down to the detection limit of the camera (which depends on the aerosol concentration of the raw air, the size of the leaks and the like). Additionally, the leak test creates an detailed leak-image from every filter analyzed which can be stored on hard disc for further studies and investigations.
· The device works half automated.

Working Principle
The measurement procedure is very simple and only a few steps are necessary to conduct a complete measurement cycle.
· The operator puts the filter to test into position and presses two buttons simultaneously to trigger pneumatic levers which push the filter tightly down onto the adapter plate.
· In a second step the operator hits another button to run the measurement. A laser beam scans the entire surface of the filter for leaks. The video camera detects the leaks and stores them.
· As soon as the measurement ends the detected leaks are displayed and copied into the video image of the filter. This way all detected leaks can be sealed easily by the operator after the measurement.

Functional Test
· The device can be equipped with a differential pressure transducer to display the pressure drop of the filter.
· The device allows to test filters with a size of up to 600 by 600 mm and heights of up to 300 mm. Different filter adapter plates for different filter sizes and shapes are easily exchangeable.
· To be operational, the device needs to be supplied with the required aerosol flow rate generated by an air processing unit and an aerosol generator. These devices can also be purchased from us.






Note:QINSUN always been committed to innovation and improve product performance and functionality, based on the reasons, the product specifications will be changed accordingly. The above without prior notice, the Company reserves the right to amend the final.