---
Building Material Smoke Density Testing machine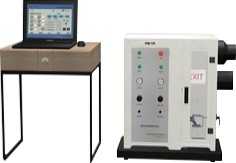 In the event of fire, people are choked by smoke or can not escape because they can not see the road. Therefore, in the prevention of fire, it is very important to accurately test the smoke density of the material .
This building materials smoke density tester meets all the technical parameters and requirements specified in the GB GB / T8627-2007, and can be used to measure and describe the heat and flame response of materials, products and components under a controlled laboratory condition. Measuring the static smoke production of building materials under the test conditions of combustion or decomposition is extremely important for predicting fire hazards

Standards
ASTM D2843 :Standard Test Method for Density of Smoke from the Burning or Decomposition of Plastics.
GB/T 8627 Test Method for Density of Smoke from the Burning or Decomposition of building materials.

Features
· Paint coated chamber, beautiful, anti-corrosive and durable.
· Transparent tempered glass door, convenient for test observation.
· Stainless steel sample holder and sample template.
· Light absorption rate: 0-100% continuously measurable. Smoke density resolution : 0.1%
· Smoke density measurement accuracy: ± 3%.
· Equipped with main burner and sub burner.
· Equipped with a fan for smoke exhaust; exhaust volume:1700L/min.
· 300mm optical path. 480mm high above the base.
· Easily cleanable optical glass. keep the light glass clean to avoid the dust particles attached impacting the light transmittance effect.

Test System
1, Silicon optical electromagnetic module, high stability linear output, built-in signal amplifier.
2, the data collector NI real-time records light transmittance signal at a data acquisition interval of 1s.

Control Program
Laptop + Labview control procedure:
1, Automatic timing, automatic ignition, automatic smoke exhaust. The flux can be automatically corrected.
2, Laptop and Labview achieve data collection, calculation, and storage.
3, Labview test dedicated control procedures, and the interface is beautiful, easy to understand.
4, Real-time data and smoke density curve display / historical curve and data display and query.

Technical Parameters
1. Power:220VAC 3A 50HZ
2. Weight:50kg
3. Gas: commercial propane with a purity of more than 85% of , customer-prepared.




Note:
QINSUN is very in place for textile testing and quality control,we have our own textile testing lab. Our
textile testing equipment
and testing methods are in the leading position in the industry. We have passed the textile testing certification and iso textile testing standards issued by a number of testing,We can provide
textile testing equipment pdf manual
. Sufficient inventory, big discounts, limited time promotion, Order now!