---
Building Materials Combustion Value Tester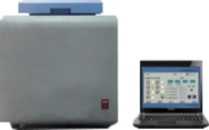 Building materials combustion calorific value characterization of building materials in the fire risk of important parameters, is the calculation of building materials to release heat and fire load essential basic data. Burning calorific value tester is one of the equipment of the latest version of the national standard GB8624-2012 building materials combustion performance grading test, according to GB14402 standard requirements developed in the constant heat capacity of the oxygen bomb calorimeter in the determination of building materials combustion calorific value.
Standards
GB/T 14402-2007 Determination of combustion calorific value of combustion properties of building materials and articles
ISO1716-2002 Reaction to fire tests for building Products- Determination of the heat of combustion
Features
The main equipment includes: calorimeter device, high pressure oxygen bomb, cold water device, computer monitoring and control system (recordable and display curve), LCD screen and software;
Crucible for stainless steel;
Box paint processing; all internal parts are made of stainless steel, corrosion-resistant, easy to clean;
Ignition wire broken wire can automatically detect and ignite;
The test process automatically turns off;
Test abnormal sound alarm prompt;
Computer control system;
Control box with USB / RS232 serial port, equipped with an external brand desktop computer or notebook operation control; high degree of automation, the test process is safe and reliable, easy to operate.
Technical Parameters
| | |
| --- | --- |
| Items | Parameters |
| Volume heat bomb capacity | (300 ± 50) mL |
| Oxygen bomb pressure range | 0.5 ~ 3.5MPa, no leakage |
| The amount of thermal bomb pressure | 21Mpa |
| Crucible | Φ25mm, height (14-19) mm, wall thickness 1mm, stainless steel |
| Stirring power | 3W |
| Stirring speed inner tube | 375r / min |
| Timer | Accuracy of 0.5s |
| Maximum use of power | 0.5KW |
| Ambient temperature | (10 ~ 35)℃, humidity ≤ 80% |
| Instrument heat capacity | About 10000J / K |
| Heat capacity repeatability error | ≤ 0.2% |
| Temperature range | (4.5-50) ℃ |
| Temperature difference detection | 0.0001 ℃ resolution, using PT100 sensor |
| Inner cylinder volume | 2000ml, oxygen bomb sealing: oxygen pressure 2.5 ~ 3.5MPa, no leakage |
| Instrument stirring power | 3W, stirring speed: the inner tube (375r / min) |
| Power supply voltage | AC220V ± 10% 50Hz |
Note:
QINSUN is very in place for textile testing and quality control,we have our own textile testing lab. Our
textile testing equipment
and testing methods are in the leading position in the industry. We have passed the textile testing certification and iso textile testing standards issued by a number of testing,We can provide
textile testing equipment pdf manual
. Sufficient inventory, big discounts, limited time promotion, Order now!