---
Building Materials Monomer Combustion test Dust Removal Equipment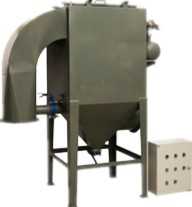 In a monomer combustion test, the material combustion can produce large amounts of smoke and dust, which pollutes the environment. Therefore, a suitable equipment is required to carry out purification treatment. For this reason, our company have taken reference of a variety of forms of dust removal equipment at home and abroad to develop a new generation of dust treatment equipment combined with the actual situation of monomer combustion test together with foreign experts. The equipment can not only effectively reduce the smoke content in the pipeline in order to make the smoke emission in full compliance with national requirements, but also avoid the dust removal equipment to impact the exhaust gas flow rate.

Standards
GB/T 20284-2006 Monomer combustion test of building materials and products.

Technical Parameters
| | |
| --- | --- |
| Items | Parameters |
| Air exhaust volume | 2400 m3/h |
| Pressure | 3000 Pa |
| Filter media | Non-woven fabric |
| Endured temperature | 110℃ |
| Filter cartridge | 9 pieces |
| Filtering area | 45m2 |
| filter cartridge size | φ200mm×660mm |
| Inlet dust concentration | ≤100 g/m3( standard state) |
| Outlet dust concentration | ≤30m g/m3( standard state) |
| Cleaning method | Pulsed compression air |
| Consumption of compressed air | 0.37 m3/min |
| Power | AC 380V, three-phase and five-wire system |
Features
1. Filter-type automatic cleaning dust collector with polymer anti-high temperature electrostatic coated filter media filter cartridge;
2. With the top vertical installation, the pulse cleaning system blows dust from the top to the internal filter cartridge;
3. Cartridge has a cover flange. The area between the cover flange and the board is sealed by rubber, and fixed with bolt;
4. Cleaning method is time sequential cleaning;
5. Electrical control cabinet uses Siemens PLC control.
6. Configured high-power fan directly controls the volume flow rate of the flue.

Note:QINSUN always been committed to innovation and improve product performance and functionality, based on the reasons, the product specifications will be changed accordingly. The above without prior notice, the Company reserves the right to amend the final.