---
Humidified Tandem Differential Mobility Analyzer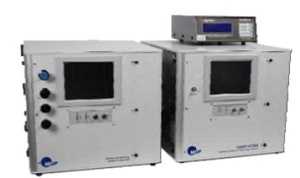 The Humidified Tandem Differential Mobility Analyzer (DMA) system has two differential mobility analyzers and a humidification section in between. Aerosol from the ambient atmosphere or from the built-in aerosol generator can be classified by the first DMA to produce a monodisperse aerosol for size analysis by the second DMA to determine the growth in particle size as a function of relative humidity.
Structure
· Built-in Atomizer Aerosol Generator
· Electrical Ionizer
· Differential Mobility Analyzer (DMA)
· Electrical Mobility Spectrometer
· Condensation Particle Counter (CPC)
· Humidity Conditioner
· Data analysis software
Features
· High stability atomizer aerosol generator
· High accuracy aerosol humidity conditioner
· Wide range, high resolution DMAs
· Patented dual-reservoir CPCs
· DMS and SMS data analysis software
· User friendly user interface with touch screen display
· Automatic data logging
Application
· Study of the hygroscopic growth of aerosols for accurate deliquescence and efflorescence measurements.
· Other aerosol studies by the TDMA method.

Technical Parameters
Overall Specifications of the Model 1040XP HTDMA*
Aerosol Generator (Part 1 of system)
460 mm (H) x 610 mm (D) x 525 mm (W)
Part 1/Part 2 Total Weight
100 lbs (45 kg)/ 140 lbs (60 kg)
Power Requirements (Part 1)
115 or 230 VAC, 50-60 Hz, single phase, 250 W max, 160 W steady
Humidity Conditioner/Spectrometer (Part 2)
460 mm (H) x 610 mm (D) x 525 mm (W)
Power Requirements (Part 2)
100- 240 VAC, 50-60 Hz, single phase, 500 W max, 400 W steady
Operating Aerosol Pressure
800 to 1050 mbar absolute pressure
Ambient Temperature Range
10 to 35 ºC
Ambient Humidity Range
0-90% RH, non-condensing
Polydisperse Aerosol Generation System
Single-Jet Atomizer
Stainless Steel Construction
Pressure
5 to 60 psig (5 to 415 kPa gage), controlled by manual pressure regulator
Aerosol Flow Rate
Typical 3 L/min @ 35 psig (240 kPa gage)
Volume Mean Droplet Diameter
about 2 µm (GSD< 2.0)
Aerosol Size Range
10 to 2000 nm
Aerosol Concentration
> 107 particles/cm3 (typical for NaCl)
Dryer
Diffusion type (NafionR membrane requires dry comp. air, -20 ºC dew point)
Humidity Conditioner
Relative Humidity Control Range
10 to 93% with user-selected set point in 1% intervals
Flow Rate
1 to 10 L/min
RTD and Dew Point Accuracy
± 0. 2 ºC
RH Accuracy
± 1.5% for chilled mirror sensor; ± 2.5% for capacitive sensor
RH control stability
± 1.2% (typical)
Response Time for < 10% ΔRH
< 3 min (typical)
Water Reservoir Heater Control
25 to 50 ºC in 5 ºC intervals
Saturator
Nafion® Humidifier with DI water closed loop circulation
Dryer
Diffusion type (Drierite® desiccant)
Note:
QINSUN is very in place for textile testing and quality control,we have our own textile testing lab. Our
textile testing equipment
and testing methods are in the leading position in the industry. We have passed the textile testing certification and iso textile testing standards issued by a number of testing,We can provide
textile testing equipment pdf manual
. Sufficient inventory, big discounts, limited time promotion, Order now!