---
mercury porosimeter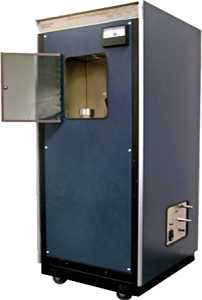 Mercury / non-mercury porosimeter is a multi-purpose precision instrument for measuring pore size distribution, total pore volume, bulk density of surface area, solid and powder and absolute density. With unlimited user-defined data points, automated data collection and reduction, mercury / non-mercury mercury porosimeters are safe, reliable and accurate equipment relative to the use of mercury porosimeter on the market.
Applicable Test
· Overall pore volume
· Mean pore diameter
· Pore distribution
· Particle size distribution
· Porosimetry surface area
· Volume density
· Absolute density
Applicable
Mercury / non-mercury porosimeter is an excellent R&D tool. The instrument can be used in various industries from automobile manufacturing, pharmacy to paper industry. Mercury / non-mercury porosimeter can test samples such as brake pad, catalyst converter material, coating paper and the initial form of powder.
Applicable industries:
Automobile manufacturing Battery separator
Ceramics Chemistry
Filtration Fuel cell
Paper industry Pharmacy Powder metallurgy
Features
· Compatible with Windows 95 or higher version.
· Graphical display of the test status and test results during the operation.
· About 2h test duration
· Samples of wide ranges of sizes and types are usable.
· Multiple sample chambers available.
· Less maintenance required.
· No need to transfer samples from low pressure station to high pressure station. Automatically replenish mercury and cleaning.
· All stainless steel structure, corrosion resistance, automation control, simple operation.
· Wide range of application.
· Unlimited user-defined data points, automated data collection and reduction, less mercury exposure, safety, reliability and accuracy.
· Unlimited user-defined data points based on pressure, volume and coalition. Simultaneous display insert and ejection curve.
· Microsoft software processes all control, measurement, data collection and report output. And manual operation is allowed.
Technical Parameters
| | |
| --- | --- |
| Items | Parameters |
| Pore size range | 0.0035-500μm |
| Surface area range | 1-100m2/g |
| Sample size | 2.7cmH×2cmD |
| Pressure range | Vacuum-60000psi |
| Pressurized gas | Air or isopropyl alcohol |
| Pressure transducer range | 0-60000psi |
| Resolution | 1/60000 |
| Accuracy | 0.25% of reading |
| Power | 110/220VAC,50/60Hz(other power source available) |
| Dimension | 72〞H×30〞W×30〞D |
| Weight | 400lbs |
Note:
QINSUN is very in place for textile testing and quality control,we have our own textile testing lab. Our
textile testing equipment
and testing methods are in the leading position in the industry. We have passed the textile testing certification and iso textile testing standards issued by a number of testing,We can provide
textile testing equipment pdf manual
. Sufficient inventory, big discounts, limited time promotion, Order now!