---
Envelope Surface Area Analyzer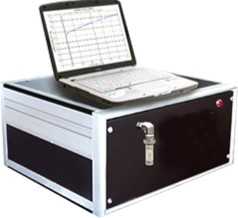 PMI's Envelope Surface Area Analyzer (ESA) offers a simple, fast, and reliable technique for external surface area measurement - a measurement not readily achieved by static nitrogen adsorption (BET) methods. The ESA's innovative use of flow permeametry combined with its sophisticated self-adjusting viscous-flow controller enables testing of a wide range of powders and other samples, including materials with surface areas of only several square meters per gram.
Application
Providing the user with a surface area measurement in less than five minutes, the main application of the ESA is quality control. Samples tested include pharmaceutical powders, electrode components, ceramic powders, fibrous materials, and other porous substances. The ESA is utilized for this function in several industries, such as: Battery Separator Ceramic Chemical Pharmaceutical Powder Metallurgy.
Features
· The first porometer capable of testing samples with permeabilities as low as 10-6 Darcies
· MicroFlow models available that have the capability to determine pore sizes from 500 to 0.013 microns
· Flow is determined by measuring the pressure change in a sealed reservoir as pressurized gas is applied to the sample
· Inlet pressure is measured by a high accuracy differential pressure gauge
· Systems can be modified to accommodate specific needs
| | |
| --- | --- |
| Items | Parameters |
| Surface Area Range | 0.1~10m2/g |
| Sample Size | 1~10cc |
| Pressure Range | 0~500psi |
| Pressurizing Gas | nitrogen or any non-corrosive gas |
| Pressure Transducer Range | 0-500psi |
| Mass Flow Transducer Range | 10cc/minute~100cc/minute |
| Power Requirements | 110/220 VAC,50/60Hz |
| Dimensions | 7" H x 17" W x 17" D |
| Weight | 30lbs |
Note:QINSUN always been committed to innovation and improve product performance and functionality, based on the reasons, the product specifications will be changed accordingly. The above without prior notice, the Company reserves the right to amend the final.