---
Taber abraser(Abrader)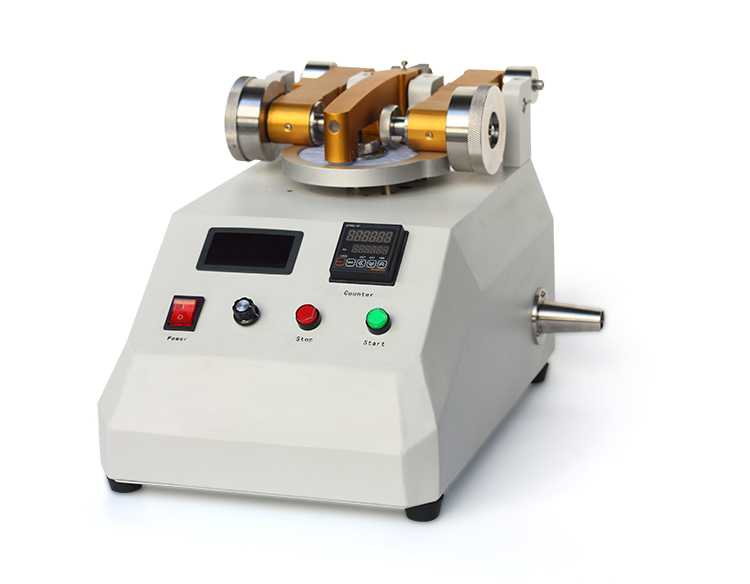 Taber abraser(Abrader) consists of a rotary platform to place test specimen, a pair of articulated arms with friction wheel, a motor used to drive the turntable rotation, a counter used to set the rotation number of turntable with the automatic stop function, and a suction device used to take away the debris.By cahaIt's suitable for a variety of materials' test, such as papers, textiles, rubbers, coatings and many other tests due to the replacement of different wear wheels.

Details:
Taber abrasion tester mainly through the rotation of the grinding method, use different types of friction wheel for rotating on the sample to detect leather and plastic materials wear resistance performance. Select the Standard applicable weight group to detect material characteristic. Check the weight loss of the sample outer surface , such as noticeable mechanical damage.
Standards
1. ISO 9352 Plastics - Determination of resistance to wear by abrasive wheels
2. ISO 5470 Rubber- or plastics-coated fabrics - Determination of abrasion resistance
3. ASTM D1044 Test method for resistance of transparent plastics to surface abrasion
4. ASTM D3884 Standard guide for abrasion resistance of textile fabrics (rotary platform, double-head method)
5. JIS K6902 Testing method for laminated thermosetting high-pressure decorative sheets
Features
Logic circuit control, simple and reliable operation.
The height of the suction port is suitable for different thickness materials
250g wear arm. Two kinds of wear wheels can be adapted to a variety of materials.
Scope of application:
Testing, including metal, paint, sheet surface, coating materials, textiles, leather, rubber and other Abrasion resistance performance.
Applications: suitcases, carpets, cardboard, clothing, glass, plastic coating, tiles, metal coating, paint, varnish, decorative flakes, high pressure flakes, plastic, textiles, flexible floor mats, traffic paint, anodized, Electronic components, decorative panels, waxes, labels, leather cases, dental materials, Automotive interior, resins, furniture and so on.
Experimental principle:
The "X" type friction is produced by the rotation of a pair of friction wheels. Equipped with a full set of auxiliary weights, sample holder, friction wheel, vacuum device, membrane control keyboard and electronic counter.
Test piece: OD 108mm, inner diameter 8mm, 3mm (D)
Grinding wheel: 2 "(M * 45mm) 1/2" (W)
Grinding wheel central spacing: 63.5mm
Grinding wheel and test plate central spacing: 37 ~ 38mm
Counter: LCD, 0 ~ 999.999
Volume: 530 × 320 × 310 + vacuum cleaner
Weight: 18kg (without vacuum cleaner)
Technical Parameters
| | |
| --- | --- |
| Items | Parameters |
| Rotating speed | 60rpm-72 rpm (adjustable) |
| Testbed | External diameter 108mm, Inner diameter 8mm, thickness 3mm |
| Grinding wheel | Diameter 2 |
| Grinding wheel spacing(center) | 63.5mm |
| Loading | 250g, 500g, 750g, 1000g |
| Power | 1φ,AC220V, 50HZ |
Note:
QINSUN is very in place for textile testing and quality control,we have our own textile testing lab. Our
textile testing equipment
and testing methods are in the leading position in the industry. We have passed the textile testing certification and iso textile testing standards issued by a number of testing,We can provide
textile testing equipment pdf manual
. Sufficient inventory, big discounts, limited time promotion, Order now!