---
Non-combustibility Tester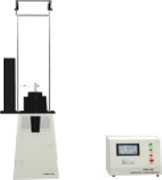 Non-combustible material refers to the material when it is heated by the fire even if it become the red or melting, which will not occur burning. Non-combustibility tester is designed by the new GB8624-2012 building materials fire classification requirements in the mandatory testing project , But also fully meet the GB / T 5464 and ISO 1182 international standards. Furnace temperature can quickly reach the temperature balance into the test program. The temperature curve is free to print.
Standards
GB/T 5464 Method for non-combustibility test of building
ISO 1182 Reaction to fire non-combustibility test of building products-non-combustibility test
BS 476-4 Fire tests on building materials and structures-Full-scale room test for surface products
BS 476-11 Method for assessing the heat emission from building materials
ASTM E 136 Standard test method for behavior of materials in a vertical tube furnace at 750℃
Technical Parameters
| | |
| --- | --- |
| Items | Parameters |
| Dimension | 500mm x 500mm x 1500mm |
| Weight | 50kg |
| Power | 220V, 50Hz, 1500W |
| Air flow hood | Φ75 mm×500 mm |

Features
Patented design intelligent test system;
Stainless steel burner, beautiful and easy to clean up;
Heating furnace: Φ95 mm × Φ75 mm × 150 mm;
3 mm × 0.2 m nickel 80% chromium 20% resistance band;
Equipped with airflow hood;
Thermocouple: Insulated nickel-chromium-nickel-aluminum armor Φ3 mm / Φ0.3 mm;
Power controller, control test power;
The experiment began to temperature equilibrium time of about 35min;
Thermometer: 0 ~ 1000 ℃± 5%.

Systems
High degree of automation, the test process is safe and reliable, easy to operate;
The use of high-quality bar heater, the furnace temperature can rise to 900 ℃;
Programmable controllers (PLCs) automate the heating process by using modern electronic devices, can greatly extend the life of the furnace;
PLC output signal control heating voltage is 0-110VAC. Eliminate the effect of voltage fluctuation on temperature;
PLC added solid state relay to achieve PID control heating;
Built-in new furnace temperature, calibration temperature, the normal test temperature three procedures;
Embedded integrated 7 "touch screen can be set to control the parameters set and display / experimental data acquisition and preservation / screen monitoring / real-time temperature curve display / historical curve and data query;
With sound alarm and alarm accident display function.
Note:
QINSUN is very in place for textile testing and quality control,we have our own textile testing lab. Our
textile testing equipment
and testing methods are in the leading position in the industry. We have passed the textile testing certification and iso textile testing standards issued by a number of testing,We can provide
textile testing equipment pdf manual
. Sufficient inventory, big discounts, limited time promotion, Order now!