---
Vertical Flammability Tester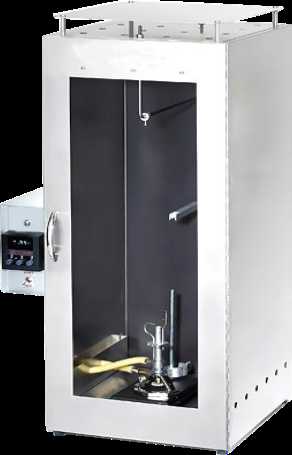 Introduction
Vertical Flammability Chamber for measuring the vertical flame spread for children' sleepwear, fabrics, other textile materials or resilient filling materials used in upholstered furniture. Comprises a draft free stainless steel cabinet with observation window and back wall painted black for easy test viewing. The different specimen holders and associated hardware is dependent on the test standards. Automatic Gas Control System could easily control the combustion process.

Application
This tester is used to detect children's pajamas or decorative fabrics, combustion performance of foam, also it's suitable for the determination of aviation and transport materials, burning resistance of the tents and protective clothing.

Standards
ASTM D 6413-99 (formerly FTMS 191-5903), DOC-FF 3/71, CALIF TB-117, 16CRF 1615/1616, GB/T545, NFPA 701, CPAI 84, CAN/ULC S109, UL 214, CA TB 117 A1&B, CA 19 16, CFA 1615&1616, Airbus AITM 2.002, Federal Test Method 5903, CPAI 84, FAR Part 25, Appendix F Part 1, NFPA 1971/1975/1976/1977/1981/2112, ASTM D6413, ASTM F1506.

Technical Parameters
1. Dimension: (L)330mm×(W)360mm×(H)836mm
2. Weight: 38Kg

Features
1. Seal 316 stainless steel combustion chamber with observation window for easy test viewing. It is high-heat and high-pressure resistance.
2. Equipped with a standard burn timer to detect the flame spread rate.
3. It's convenient for operation due to the Burner fixing in the sliding track with Maximum sliding accuracy of 5mm. Adjust the height of the flame with the precision needle valve, and the accuracy is up to 5mm.
4. Stainless steel gas design, and configuration of pressure relief valve, check valve, solenoid valve to get the higher safety.
5. Different test standards are equipped with different sample clamps and metal accessories.
6. Automatic gas control system, including electromagnetic control gas valve, automatic ignition timer and controller.

Configurations
1. Manual gas - air system
2. Automatic gas control system
3. Optional burner.



Note:
QINSUN is very in place for textile testing and quality control,we have our own textile testing lab. Our
textile testing equipment
and testing methods are in the leading position in the industry. We have passed the textile testing certification and iso textile testing standards issued by a number of testing,We can provide
textile testing equipment pdf manual
. Sufficient inventory, big discounts, limited time promotion, Order now!