---
High Efficiency Filter Test Bench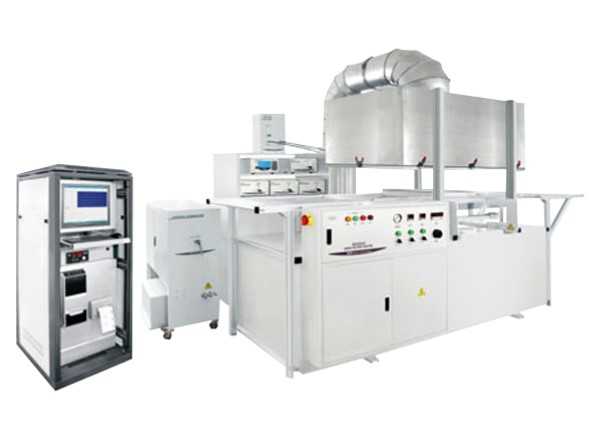 Introduction
The high efficiency filter test bench is in accord with the relevant domestic and international standards and norms: European standard EN1822, American standard IEST-PR.CC021, GB16166 and other design and manufacture, for the detection of filtration efficiency and filtration resistance.
Component
1) Fan power part
2) Medium, high effect filtration and aerosol atomization part
3) Evenly-flow conveying part
4) Mounting the sealing portion of the filter under test
5) Scan detection part, with 5 SX-L310 dust particle counter (28.3L / min, the lower diameter of 0.3um)
6) Electrical control and data processing part, liquid crystal display computer (one)
Technical Parameters
1) Aerosol: DEHS (0.3um ~ 0.5um concentration ≥70%); polydisperse:1 * 10
10
/ cm
3
2) Scanning speed: ≤ 5cm / s (adjustable)
3) Sample flow rate: 28.3L / min ± 5%
4) Upstream dilution multiple: 50-100 times
5) Measurable filtration efficiency range: ≤ 99.995%
6) Measurable resistance range: 0 ~ 500Pa
7) Measured wind speed uniformity: ≤ 10%
8) Detection coverage: 100%
9) Output air volume: 300-3000m
3
/ h ± 5%
10) Body: 3500 (L) x 1700 (W) x 2700 (H)
Heat generated aerosol generator: 1000 (L) x 4700 (W) x 750 (H)
Electric control cabinet: 610 (L) × 610 (W) × 1560 (H) Unit: mm
11) Supply voltage: single-phase AC 220 ± 5%; three-phase AC 380 ± 5%
12) Power supply frequency: 50Hz ± 2Hz
13) Power consumption: about 7KW
14) Detection filter size range: 320 * 320-1260 * 630 (can be customized); Thickness range: 50 ~ 300 Unit: mm
Function
1) Detection of filtration efficiency
2) Detection of filtration resistance
3) Scan leak detection
4) Can be connected with the
production stream line
Feature
1 ) Horizontal installation of the under test filter, from top to bottom supply air, sampling probe close to the outlet of the filter (≤ 50mm apart), horizontal scanning;
2) Adopting pneumatic way to install and seal the under test filter, simple, fast and reliable;
3) Upstream concentration test configuration bypass valve dilution, dilution rate large, reliable and stable;
4) 4 sets of sampling head, equipped with four large flow of laser particle counter, to achieve a one-time X-ray scan, detection time is short;
5) Intelligent data monitoring system software, scanning detection process directly through the computer LCD display response, data processing, test results automatically print, print paper for single-sided offset paper can be directly attached to the measured filter to achieve
Note:
QINSUN is very in place for textile testing and quality control,we have our own textile testing lab. Our
textile testing equipment
and testing methods are in the leading position in the industry. We have passed the textile testing certification and iso textile testing standards issued by a number of testing,We can provide
textile testing equipment pdf manual
. Sufficient inventory, big discounts, limited time promotion, Order now!