---
Building Combustion Performance Tester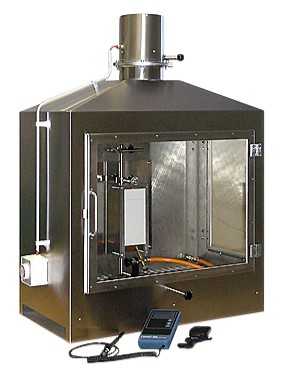 Building combustion performance tester is mainly used to determine the fire resistance of the building materials and their components. It's suitable for building sheet, composite materials, assembly materials, surface covering materials, insulation materials, coatings, decorative materials, curtains, ceiling suspension Materials, flame retardants, foaming fire retardants, pipes and fittings, etc. This tester determines the material flammability by directly using small flame in the vertical arrangement without additional heat radiation.

Standards
1. DIN 4102(B2) Classification of building materials requirements and testing (B2)
2. DIN 4102-15 Fire behavior of building materials and elements "Brandschacht"

Technical Parameters
| | |
| --- | --- |
| Items | Parameters |
| Burner | Propane burner, can be lit vertically or 45 degrees |
| Combustion flame height | 20mm, adjustable |
| Timer precision | 0-99.99s/min/h, display precision: 0.01s |
Configurations
● Building combustion performance tester, 1 set
● Calibrate anemometer, 1 set
● Timer, 1 set
● Two kinds of samples clamps, 2 in total

Features
Full mirror stainless steel box.
Double tempered glass window easy for the observation of the test process.
Propane burner can be lit vertically or 45 degrees.
Precision rotor flowmeter controls the gas flow.
U-type stainless steel frame sample holder, can be adjusted horizontally and vertically.
Equipped with the flame measuring device.
Square box body vent.
Optional combustion flue purification system, safety and environmental protection.

Note:QINSUN always been committed to innovation and improve product performance and functionality, based on the reasons, the product specifications will be changed accordingly. The above without prior notice, the Company reserves the right to amend the final.