---
Programmable Temperature and Humidity Chamber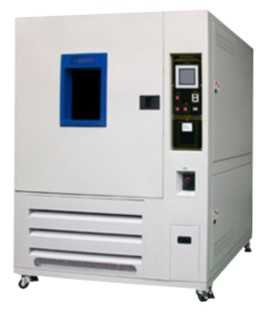 Introduction
· This device can be used to measure high temperature, low temperature, thermal-cold cycling, constant temperature and humidity, rapid temperature change, and alternate change between high and low temperature.
· Temperature rise and fall, humidification and dehumidification can be controlled separately. Hence, the efficiency of the device is improved to save over 20% electricity, lower the breakdown rate, prolong the service life span and decrease the test cost.
· The touch setting mode is controlled by microprocessor with 12 sets of P.I.D automatic calculation function, which controls the temperature and humidity more precisely.
· The deviation of temperature and humidity can be revised by programming.
· When breakdown occurs to the temperature probe, it can be automatically detected.
· Automatic water circulation or water supplement.
Features
· TFT、LCD color screen
· USB interface
· Nitrogen welding in the whole process
· Load calorific value up to 800℃
· Compressor vibration and noise is eliminated through a special vibration-absorbing material.
· Double protection against over-temperature empty burning.
· Superconducting evaporator film treatment, can improve the efficiency of 10%.
· The binary refrigeration system uses plate-type heat exchange.
· Stainless steel single shaft fan motor
· Test stand stainless steel passivation treatment does not produce electrochemical corrosion
· Servo refrigerant servo valve drive.
· System-wide compressor three-year warranty.
· Sweden original longevity ultrasonic humidifier, energy saving and environmental protection.
Technical Parameter
Model
TMJ-9712A
TMJ-9712B
TMJ-9712C
Internal dimension (WxDxH)mm
400x400x500
500x500x600
1000x800x1000
External dimension (WxDxH )mm
1050x700x1360
1160x800x1460
1650x1100x1860
Temperature range
-30℃~100℃
-40℃~150℃ (-70℃~200℃)
Humidity range
10%~98%RH at 10℃~85℃
Accuracy
Indication
Temperature ±0.3℃ Humidity±2.5%RH
Uniformity
Temperature±0.5℃ Humidity±3.0%RH
Control system
Programmable temperature and humidity
Power consumption
220V single phase
220V single phase
220V 3Φ 4W 380V 3Φ 5W
Option
Temperature recorder 6 points
Note:
QINSUN is very in place for textile testing and quality control,we have our own textile testing lab. Our
textile testing equipment
and testing methods are in the leading position in the industry. We have passed the textile testing certification and iso textile testing standards issued by a number of testing,We can provide
textile testing equipment pdf manual
. Sufficient inventory, big discounts, limited time promotion, Order now!