---
Skein Length Tester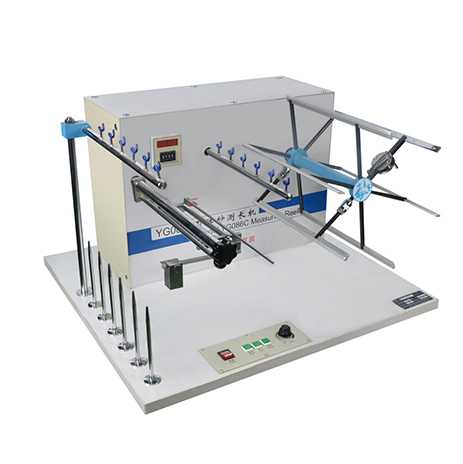 The
Skein Length Tester
is used to accurately measure the length of the yarn, for the determination of the yarn density or count of the yarn and the yarn strength test.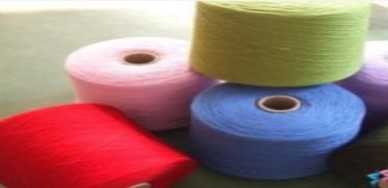 Standards
GB/T 4743 Textiles-Yarn from packages-Determination of linear density (mass per unit length) by the skein method
GB/T 14343 Testing method for linear density of synthetic filament yarns
GB/T 6838 Testing method for sewing threads
ISO 2060 Textiles-Yarn from packages-Determination of linear density (mass per unit length)-Skein method
ASTM D1907 Standard Test Method for Linear Density of Yarn (Yarn Number) by the Skein Method



Features


OEM modeling
True single-chip microcomputer control, digital circuit, start and stop smoothly. You can design parameters. Besides, it is real-time speed, and the whole machine is no contact relay
It can be set to stop the first 1 ~ 5 laps in advance to slow down to greatly avoid the phenomenon of punching, mature and reliable electrical circuit: start and stop smooth, low noise operation, accurate circle, no ring phenomenon, good reliability, low failure rate
And the microcontroller set as one of the electronic counter.
With real-time speed function
Continuous step-less speed regulation
1, the real single-chip domination, mature and reliable electrical circuits: start and stop smoothly, low noise, accurate loop-counting, no loop-clashing phenomenon, Good reliability low failure rate.
2, SCM design as one of the electronic counter
3, with the real-time speed measurement function
4, continuous variable speed
5, can set the final stop early deceleration, smoothly stop rotating , greatly avoiding the phenomenon of loop-clash
6, the sensor dynamic measurement, LED display
1, can be swirled only count: 1 ~ 6 tube
2, yarn frame circumference: 1000mm ± 1mm
3, yarn frame speed: 30r / min ~ 260r / min (Promise speed)
4, yarn frame laps set range: 2 ~ 9999 circle
5, swinging traverse reciprocating stroke: 35mm ± 0.5mm
6, a single yarn tension range: 0cN ~ 100cN
7, Tension test method: dynamic sensor measurement, digital display
8, 1 to 5 laps ahead of time to stop the slow setting, stop rotating smoothly, no skidding, punching phenomenon
9, SCM design as one of the electronic counter
10, all LCD display, no wear and tear
12, the power supply voltage: AC220V, 50HZ
13, Dimensions: 780mm × 660mm × 480mm
14, equipment weight: about 45Kg
1, design of the overall structure is firm , and adopt the stainless steel and aluminum alloy material, long life and good stability.
2, with the need to install pre-tension device to improve the accuracy of unit testing .
3, with the pre-set fixed length winding wire counter, easy to use.
4, can be equipped with pressure dust cover, to prevent dust and protect the operation to avoid the scruples of clip injuries.
5, equipped with emergency safety switch.
Technical Parameters
Items

Parameters

Frame perimeter

G171C:1000mm± 1mm
G171E:54in± 1/16in(export only)

Single yarn tension range

0~100cN/Single yarn

Shake yarn traverse reciprocating width

35mm

Test tube can be tested at the same time

6

Dimensions

780×660×480mm(L×W×H)
Product Display: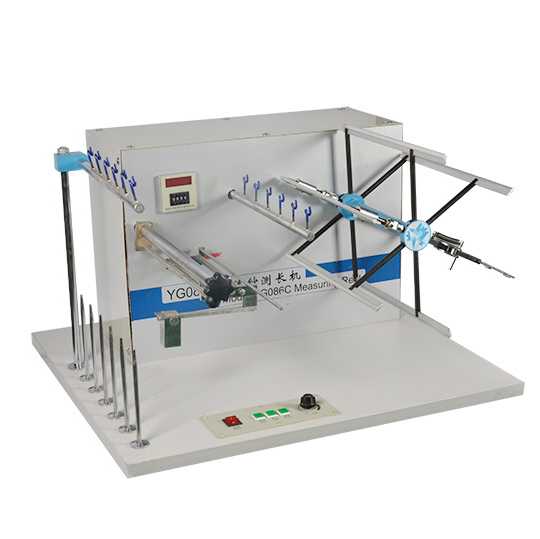 Note:
QINSUN is very in place for textile testing and quality control,we have our own textile testing lab. Our
textile testing equipment
and testing methods are in the leading position in the industry. We have passed the textile testing certification and iso textile testing standards issued by a number of testing,We can provide
textile testing equipment pdf manual
. Sufficient inventory, big discounts, limited time promotion, Order now!