---
Filter Mesh Test Stand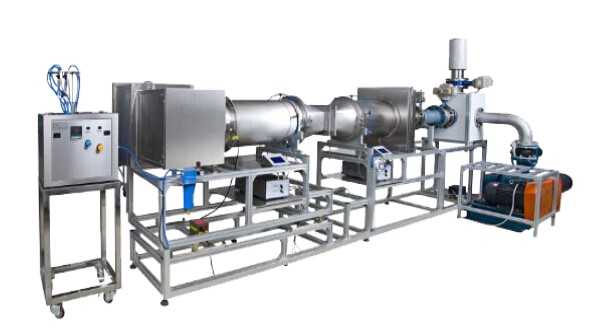 Introduction
Filter mesh test stand is based on relevant standards and specification to test quality control factors: pipe leakage, dust generation, flow test, resistance test, the change of different filters, flow control.
Structure
· Power section
· Aerosol generator section
The aerosol generator can consecutive produce stable DEHS particles (particle size range 0.3-3μm) .
· Particle counter section
The sampling flow of the particle counter is 2.83L/min. The particle counter is specially suitable for particle size 0.3μm-10μm.
· Fixture and structure section
The pipeline is made of 305 stainless steel, anticorrosion and antirust, with consideration of convenient pipeline replacement ( when testing different size of filters).
· Flow monitoring section: Using V cone flowmeter for flow detection.
· Differential pressure monitoring section:
Using imported DWYER electronic differential pressure transducer for pressure measurement.
· Flow control section
Electric control valve to automatically regulate the flow
· Data processing:
Including PLC, software and electric control
Standards
ISO 11155 Road vehicles - Air filters for passenger compartments - Part 2: Test for gaseous filtration
QC/T 795-1:2007 Road vehicles - Air filters for passenger compartments - Part 1: Dust filtration test.
Technical Parameters
Item
Parameters
Basic Parameter
Power supply
Three phase AC, 380V±5% 50Hz±2Hz ,5.5kw
Condensed air
4-8kg/cm2
Dust source
DEHS
Anti-electric shock Rate
Grade I
Environment condition
Temperature
15-25 ℃
Relative humidity
≤75%RH
Air pressure
68kPa-106kPa
Flow
Test range
150-600m³/h
Test accuracy
±5%
Test stability
±3%
Resistance
Test range
0-250pa
Test accuracy
0-100pa,±5pa;>100pa ,±5%
Aerosol
Uniformity
≤±15%
Particle counter calibration
Calibrated in according to JIF 1190-2008 (particle counter calibration specification )
Repeatability of counting efficiency
Efficiency lower than 40%, ≤±15%;
Efficiency higher than 40%, ≤±5%
Note:
QINSUN is very in place for textile testing and quality control,we have our own textile testing lab. Our
textile testing equipment
and testing methods are in the leading position in the industry. We have passed the textile testing certification and iso textile testing standards issued by a number of testing,We can provide
textile testing equipment pdf manual
. Sufficient inventory, big discounts, limited time promotion, Order now!