---
Hydrostatic head Tester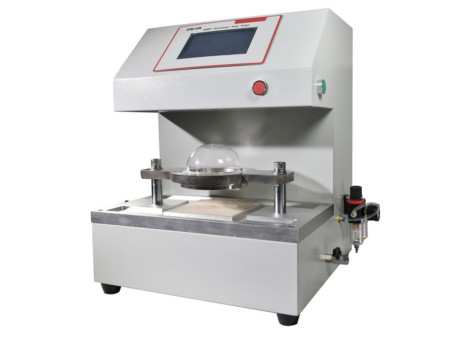 Introduction
The hydrostatic head tester is designed to test the pressure that the material does not come into contact with the exuded water droplets side when the water pressure is continuously raised in a standard atmospheric environment, which is the hydrostatic pressure value of the material. It can quickly and accurately test out the encountered resistance when water penetrates through the material, to assess the material waterproof and moisture permeability.

Application
The hydrostatic head tester can be used for waterproof moisture permeability testing of high density fabrics, laminated fabrics, coated fabrics and the so on, such as canvas, felt cloth, tarpaulin, airtight fabric, outdoor sportswear material, umbrella test, waterproof fabric testing, etc .; it can also be used for testing
the body fluid permeability and blood permeability of
medical protective clothing, the chemical liquid permeability of
chemical protective clothing
; breathable waterproof non-woven / non-woven fabric, permeability test of filter fabric; it can also be applied to water resistance test for paper and paperboard.

Feature
The pneumatic chuck with pressure regulating function, can provide superior clamping force, even under high pressure test condition, there will not occur leakage failure lead to test failure; at the same time ,it can meet the long-term test of the seal; chuck control has two ways to choose, mechanical button control and touch screen control.

LED observation light with high brightness, good visual in all directions, to ensure that the observation conditions is facilitate to observe and confirm the three drops of water test end point.

7-inch color screen, capacitive touch screen, multi-point touch operating system, easy to control, multi-language display, switch between Chinese – English language. System with built-in standard, select the corresponding standard number to start the corresponding standard requirements of the dynamic and static test; also includes dynamic and static custom test mode.

Standards
AATCC 127 Water Resistance: Hydrostatic Pressure Test
ASTM F1670 Standard Test Method for Resistance of Materials Used in Protective Clothing to Penetration by Synthetic Blood
ASTM 903 Standard Method for Resistance of Materials Used in Protective Clothing to Penetration by Liquids
BS 3321 Method for Measurement of the Equivalent Pore Size of Fabrics (Bubble Pressure Test)
EDANA 120.2-02 Determination of Impermeability
BS 3424-26 Testing Coated Fabrics - Method for Determination of Resistance to Water Penetration and Surface Wetting
GB/T 4744 Textiles -Testing and Evaluation of Water Resistance - Hydrostatic Pressure Method
BS EN 20811 Textiles - Determination of Resistance to Water Penetration - Hydrostatic Pressure Test
ISO 811 Textile fabrics - Determination of resistance to water penetration - Hydrostatic pressure test
ISO 1420 Rubber or Coated Fabrics-Determination of Resistance to Penetration by Water
FZ/T 01004 Coated Fabrics-Determination of Resistance to Penetration by Water
YY/T 0700 Clothing for Protection against Liquid Chemicals - Determination of the Resistance of Protective Clothing Materials to Penetration by Liquids under Pressure
JIS L1092 Testing Methods for Water Resistance of Textiles – Method A (low pressure)/Method B (high pressure)

Technical Parameters:
1.Testing pressure: 0-5000mbar(5000cmW.G);
2.Testing precision: Resolution with 0.1mbar;
3.Testing area: 100cm(10cm,19.63cm,26cm,28cm optional);
4.rising rate of pressure: choose according to the standard, also can input the specified value;
5.Testing units for option: mbar/kPa/Pa/cm w.c /mm w.c;
6.Maximum thickness of sample: 40mm;
7.Compressed air: 6-8 bar(clean and dry air);
8.Alarming time: 0- 9,999 min(also can be set up according to pressure or time);

Basic configuration
1.Hydrostatic Head Tester;
4.A set of PC test software (optional).

Accessories
| | |
| --- | --- |
| Product number | Product details |
| 1080101 | 100cm2 fixture set |
| 1080102 | 19.63cm2 fixture set |
| 1080103 | 26cm2 fixture set |
| 1080104 | 28cm2 fixture set |
| 1080301 | silent air compressor |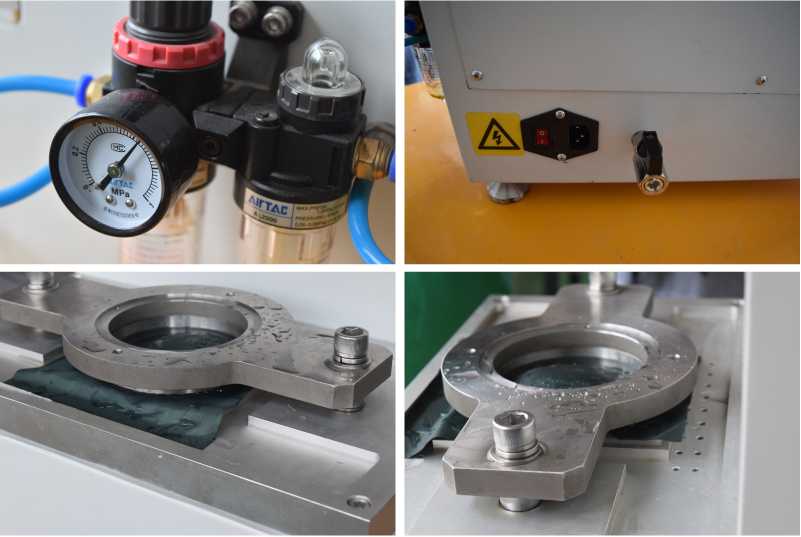 Note:
QINSUN is very in place for textile testing and quality control,we have our own textile testing lab. Our
textile testing equipment
and testing methods are in the leading position in the industry. We have passed the textile testing certification and iso textile testing standards issued by a number of testing,We can provide
textile testing equipment pdf manual
. Sufficient inventory, big discounts, limited time promotion, Order now!