---
Fabric light transmittance test machine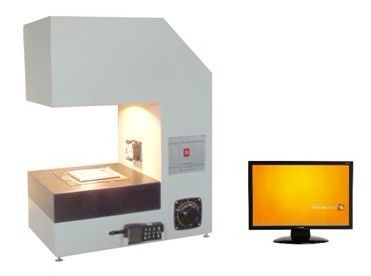 Light transmittance test machine for fabric is used to determine the total visible light transmittance of the fabric to evaluate the shading properties of the fabric and is suitable for sheet textile products such as curtains.
Test standard :JIS L1005-2009
Test principle:
1. A light source (light bulb) is illuminated, and the light is irradiated to the photodetector of the illuminance meter;
2. Adjust the brightness of the light source to 10,000 (1X);
3. Determine the illuminance of the sample;
1: illuminance (lx) after installation of the sample; I0: no illumination of the specimen (I1: I1 / I0) × 100%, I1: Lx).
Main feature:
1, with the determination of spectral transmittance function.
2, with the mouth and the photon detector integral ball.
3, with an optical device capable of generating a double beam.
4, two parallel beam of light and its beam axis of the incident angle of not more than 5 °.
5 has a function of scanning at a desired wavelength interval in the wavelength range of 380 nm to 780 nm.
6, with the sample in the tension-free state to keep the sample folder.
Technical Parameters:
1, power: 1000W, 220V;
2, light intensity adjustment range: ambient light intensity ~ 20000Lux;
3, illumination meter: 0.01Lux ~ 999900Lux, accuracy ± 5%.


Note:
QINSUN is very in place for textile testing and quality control,we have our own textile testing lab. Our
textile testing equipment
and testing methods are in the leading position in the industry. We have passed the textile testing certification and iso textile testing standards issued by a number of testing,We can provide
textile testing equipment pdf manual
. Sufficient inventory, big discounts, limited time promotion, Order now!