---
Infectious Disease Portable Test Sampling Booth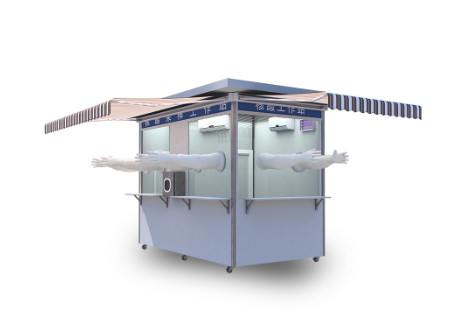 Product Introduction:
In order to better protect the safety of sampling personnel and provide a comfortable working environment, our company has designed a removable nucleic acid sampling isolation box, which can provide a safe sampling space for testing person.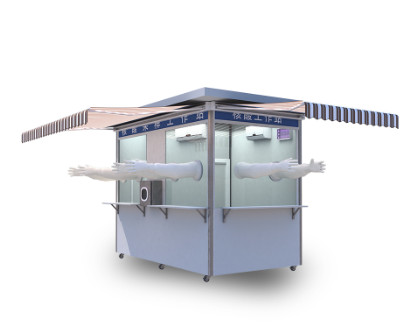 The Infectious Disease Portable Test Sampling Booth protect positive pressure and directional airflow protection for tester during the nucleic acid sampling. Negative pressure keeps aerosol contained in booth with options for single-pass booth. By providing containment using airflow to capture and exhaust out aerosols from sputum expectoration, handling, sampling or swabbing of asymptomatic carriers, patients under investigation that have some form of COVID-19 symptoms which are borderline to other infectious diseases, COVID-19 positive pa.
Complied Standard:
ISO Class 5 air cleanliness (as per ISO 1464)
Performance character:
1) Ultraviolet disinfection, can be timed.
2) Equipped with primary filtration device and anti-virus high-efficiency air filtration system, the
filtration efficiency of 0.3μm particle size particles is ≧99.995%.
3) Bracket casters, easy to move.
4) The cavity is designed with positive pressure, and the positive pressure in the warehouse is ≧20pa, which prevents external bacteria from flowing into the cavity.
5) The air supply volu.
6) The cavity is controlled by constant temperature, with dual-system air conditioners.
7) Equipped with transfer window (ultraviolet sterilization, mechanical interlock), the size can be
customized.
8) Double-station operation, more convenient and use.
Technical paramete:
1、Equipment outer dimension: 2100mm*1400mm*2800mm
2、Equipment inner dimension: 2000mm*1300mm*2000mm
3、Shell material: Insulation board
4、Observation window material: Acrylic (plexiglass)
5、Sterilization system: UV lamp sterilization Sterilization time: 30 minutes to 60 minutes is
appropriate
6、Air supply system: FLJ power frequency centrifugal blower
7、Filter element: Primary filtration: Dust-proof sponge pad Advanced filtration: H14 filter
8、Monitoring: Internal air pressure display (positive pressure 0-30PA), internal temperature display
9、Insulation system: The warehouse body is made of high-quality insulation board
10、Intercom system: two-way window intercom system
11、Lighting system: LED lighting
12、Air conditioning system: split air conditioner (1 hp)
Reference Phot: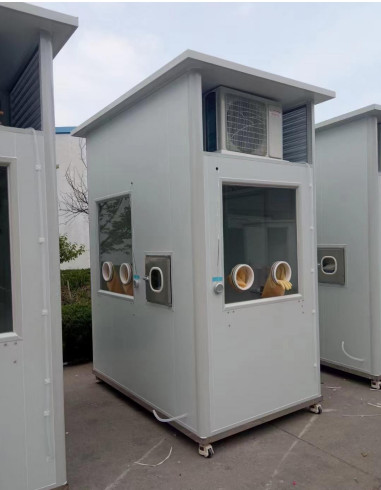 Note:
QINSUN is very in place for textile testing and quality control,we have our own textile testing lab. Our
textile testing equipment
and testing methods are in the leading position in the industry. We have passed the textile testing certification and iso textile testing standards issued by a number of testing,We can provide
textile testing equipment pdf manual
. Sufficient inventory, big discounts, limited time promotion, Order now!