---
Taber Abrasion Resistance Tester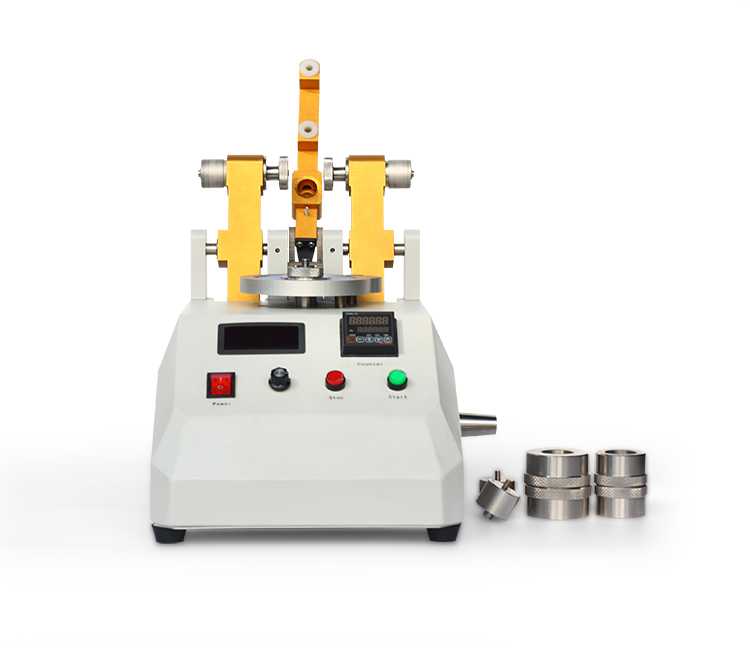 TABER type Rotary Platform Abrasion Tester or Taber Abraser (Abrader) is commonly referred to as the Taber Abrasion Resistance Tester or Rotary Platform Head Tester.
Taber Abrasion Resistance Tester Application:
TABER abrasion resistance tester and wear resistance tester can be replaced by wheel and weight,
which apply to the abrasion resistance performance test on fabric, cardboard, paint, leather, tile, glass and natural rubber,
method is simple and easy to operate,which has been widely used in various industry's testing laboratory.
Abrasion tests, the material is standard wheel friction after a certain number of turns,
evaluate its abrasion resistance material weightlessness rate by calculation.
Abrasion wheel after pre grinding standard method, test results can reach very high consistency.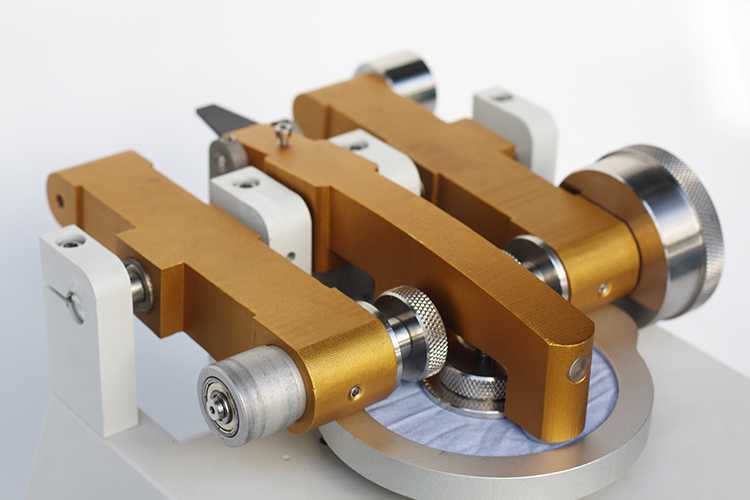 Core advantages:
▶ Simple operation, display real-time speed, the speed control can be achieved 30-75rpm adjustment,
▶ wearing can be preset number of turns. Arm can match with balance weights, accurate weight balance abrasion arm,
▶ to realize the ASTM standard which requires 125 g pressure requirements
▶ Vacuuming mouth height is adjustable, and adapt to different thickness materials, efficient removal of debris, improve test accuracy
▶ Brand motor, mute, low noise, smooth operation

Applicable Standards:
ISO 9352, ISO 5470, ISO 7784, ASTM D1044, ASTM D3884, ASTM D4060, GB/T 5137.1, QB/T 2726, DIN 53109

Specifications
| | |
| --- | --- |
| spinning speed | adjustable within the range of 30-75r/min (digital) |
| The sample surface diameter | 100mm |
| Sample table diameter | 113mm |
| setting range of Number of turns | 1-999999 |
| Air pressure | 250g |
| Weight (based on purchase) | Counterweight、250g、500g、750g、1000g |
| Wheel pressure range | 125g、250g、500g、750g、1000g、1250g |
| Vacuum arm height | Adjustable |
| power | 220V,50Hz |
| Size | 220mm×380mm×300mm |
| weight | 20kg |
Basic configuration

G270

Taber Abrasion Resistance Tester

(250g、500g、1000g)
Weight × 1 set (250g, 500g, 1000g each one pairs)
Optional Accessories

NA

27001

1 pair of 125g Balance weights and fixed screw

27002-1

1 pair of Import original abrasion wheel CS-10×1

27002-2

1 pair of Import original abrasion wheel H-18×1

27003

Import the original decoration sandpaper (grinding disc) S - 11 x 1 package (100 pieces/package)

27004

Import original sample sticker S - 36 (50 / package)

27005

Diamond wheel polisher (friction wheel polishing Taber)

XC001

One set of the vacuum cleaner
Note:
QINSUN is very in place for textile testing and quality control,we have our own textile testing lab. Our
textile testing equipment
and testing methods are in the leading position in the industry. We have passed the textile testing certification and iso textile testing standards issued by a number of testing,We can provide
textile testing equipment pdf manual
. Sufficient inventory, big discounts, limited time promotion, Order now!