---
Building material burning tester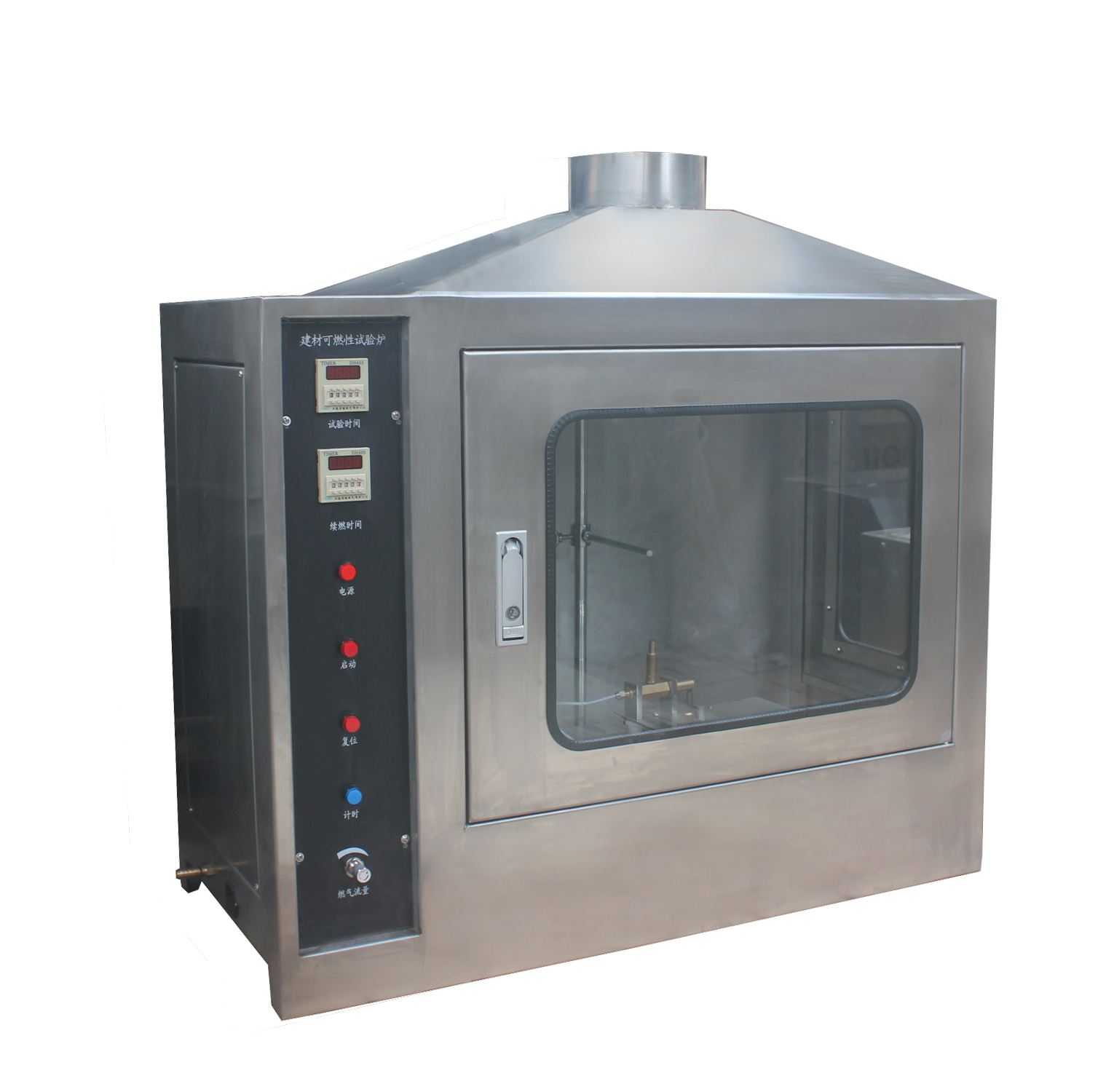 Technical specifications:
The
Building material burning tester
is designed and manufactured according to the standard gb8626-88 and is used to determine whether the building materials are flammable under the specified conditions.The
Building material burning tester
consists of two parts: the control box and the combustion box. The control system has the function of automatic ignition, automatic gas supply and automatic timing. The operation is simple and convenient.
1. Chamber material: stainless steel mirror
2. Test folder: two U-shaped stainless steel frame structure with a thickness of 5.0mm
3. burner: a 45 degree angle with the horizontal
4. flue air flow rate: 0.7m / s
5. anemometer measurement accuracy: ± 0.1m / s
GB8626-2007, ISO11925-2:2002, GB/T10801.2-2002
The basic specifications:
| | |
| --- | --- |
| dimensions of the box size test box | 700mm x 400mm x 810mm, and the top of the box has 150mm smoke vent. The front and right side are equipped with a glass observation window with a stainless steel mesh at the bottom |
| Burner size parameter burner by aperture | The nozzle and regulator of 0.17mm are composed of four 4mm air suction holes |
| Casting time | 0 ~ 99 minutes 99 seconds can be set |
| The ignition time | 0 ~ 99 minutes 99 seconds can be set |
| The flame height | can be adjusted to 20 + 2mm by standard |
| Combustion gases | used in the purity of more than 95% propane gas |
| Burning Angle | 45 ° |
| whole set of configuration | composed of control box, combustion box body, burner, solenoid valve, high-voltage igniter, signal control line and sample bracket. |
| Power | AC 220V / 50 |
Main feature:
1. box test apparatus using the S304 from stainless steel plate bending, beautiful shape, smooth lines, smoke resistant, corrosion-resistant, anti-aging, durable.
2. The test device is equipped with a burner flame measurement scale, the burner flame adjustment convenient, flexible and accurate.
3. The sample holding structure according to the standard required by strictly making the specimen clamping, fast, good combustion results.
4. The touch-button design, servo motor control, automatic ignition reset.
5. Used in universities, research institutes, testing units, insulation materials production enterprises

Note:
QINSUN is very in place for textile testing and quality control,we have our own textile testing lab. Our
textile testing equipment
and testing methods are in the leading position in the industry. We have passed the textile testing certification and iso textile testing standards issued by a number of testing,We can provide
textile testing equipment pdf manual
. Sufficient inventory, big discounts, limited time promotion, Order now!