---
Cantilever Fabric Stiffness Tester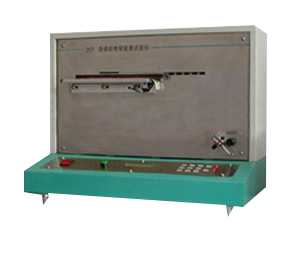 Application:
Fabric Stiffness Tester, is a practical equipment to determine the bending height, flexural rigidity and bending modulus of fabrics. This tester provides a quick and intuitive way to know the stiffness performance of all kinds of fabrics like woven, layered, napped, knitted, pile, and etc.
Standard:
ZB WO4003, GB/T18318, ASTM D 1388, IS09073-7, BS EN22313
Pneumatic fabric stiffness tester features:
With the infrared beam composition "stealth" detection slope, replacing the traditional tangible slope, to achieve non-contact detection, to overcome the twist due to the specimen is tilted up and affect the measurement accuracy of the problem. While making the measurement tilt adjustable.
The automatic detection system overcomes the shortcomings of the visualization and enhances the anti-jamming. Sample pressure plate automatic landing device to ensure that the pressure plate and sample positioning accuracy and consistency, improve work efficiency.

Technical Parameters:
| | |
| --- | --- |
| Working mode | computer control, infrared stealth slope detection, LCD Chinese display, report printing |
| Extension length range | 0.5-20.5cm |
| Measurement accuracy | 0.01cm |
| Specimen specification | 2.5×25cm |
| Specimen pressure plate specification | 2.5×25cm |
| Sample platen advancing speed | 0.3cm/s 0.4cm/s 0.5cm/s |
| Power source | AC220V 50Hz 0.12Kw |
| Dimensions | 470×290×405mm |
| Weight | 18kg |
Note:
QINSUN is very in place for textile testing and quality control,we have our own textile testing lab. Our
textile testing equipment
and testing methods are in the leading position in the industry. We have passed the textile testing certification and iso textile testing standards issued by a number of testing,We can provide
textile testing equipment pdf manual
. Sufficient inventory, big discounts, limited time promotion, Order now!