---
Textile Fabric Steam Shrinkage Test Machine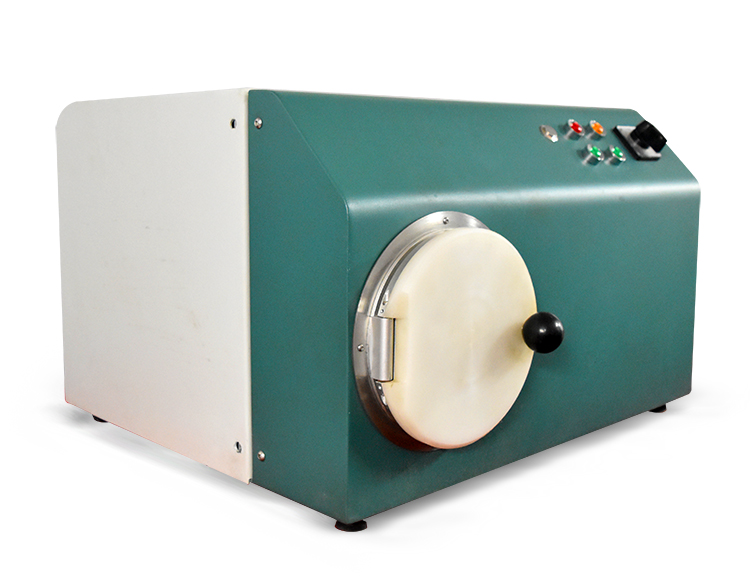 ISO 3005, BS 4323, NEXT TM 15, M&S P8, IWTO 29-76
This instrument is suitable for woven fabrics and knitted fabrics, and fabrics whose dimensions are easily changed by steaming. It is used to measure the dimensional change of the fabric after being subjected to steam under the condition of no force; this dimensional change has nothing to do with the wet expansion and felting shrinkage of the fabric in the wet treatment.
Technical characteristics:
Equipped with a timing sound alarm system to facilitate test operation.
The steam drum is provided with a door touch switch, which is more convenient and safe to operate
Steaming Cylinder determines the shrinkage of unstressed fabric samples subjected to steaming in a closed chamber with anintegral steam generator. Provided with a stainless steel fabric supporting frame to accommodate 4 samples and an automatic timer. The Steaming Stability Template is suitable for measuring relaxation shrinkage of testing fabrics using with steaming cylinders, and is used to mark the fabrics before testing using a benchmark of 250mm and to read shrinkage rate directly in percentage after steaming testing.
1. Provided with a stainless steel fabric supporting frame;
2. 4 samples to test simultaneously;
4. Designed with integral steam generator, free from auxiliary steam generating device;
5. A Steaming Stability Template.
Steaming Stability Template
Yellow indelible Marking Pen
Note:
QINSUN is very in place for textile testing and quality control,we have our own textile testing lab. Our
textile testing equipment
and testing methods are in the leading position in the industry. We have passed the textile testing certification and iso textile testing standards issued by a number of testing,We can provide
textile testing equipment pdf manual
. Sufficient inventory, big discounts, limited time promotion, Order now!