---
print ink abrasion resistance tester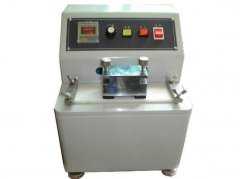 The Ink Discoloration Testing Machine brings new levels of repeatability and convenience to testing the durability of inks and coatings on any printed material.
The instrument is used for testing the scuff, marking and rub resistance of cartons, films and commercial printed material.

This comparative test works by abrading a printed sample against a reference material under known conditions.

The results can be used to identify alternative substrates, better ink and coating formulations or the suitability of finished cartons, films or printed books, magazines and promotional materials.

The printing ink durability tester can be programmed for the required number of cycles, enabling it to be run concurrently with other laboratory tests.

Optional test attachments offer the ability to conduct tests under harsher conditions and can be used to check the solvent resistance or the cure of UV inks.

Working Principle:
Rub resistance describes the ability of printed material to withstand marking, scuffing or smudging during handling in conversion, packaging, distribution and use. QT-IRT simulates a similar environment to test the rub resistance on printed materials.

Principle:
To be ground layer and Friction Paper of the Ink Abrasion tester samples, under the action of the load friction body, rubbing each other at a predetermined speed. Make measuring the reducing amount of the density before and after the friction, or decrease the amount of coating thickness, to determine the wear resistance with the ink layer or coating.

Ink Abrasion tester with Microcomputer control, LCD dynamic display, mechatronics principle, rubbing test set. Before the test, the test requirements of the standard, the number of friction or custom operator input control system, the test can achieve automatic control, and after the end of each test beep. Control system with power and memory function, which is, after each power cycle, keeping parameters state before the power was last entered. Ink wear tester actuator using high-precision micro-motor gear driven friction body friction linear reciprocating motion

Technical Parameters:
Power supply: AC220V ± 10% 2A 50HZ;

The friction velocity: (21, 43, 85, 106) r / min

Measuring range: (1 to 9999) times;

Friction load: GB: 20N;

ASTM: 0.9kg (2Lb)

Friction distance: 60 mm

machine interface: 3.1 "@ 128 × 64 dot matrix LCD screen (blue), English menu;

Working environment: temperature (20 ± 10) ° C;

Humidity <85%;

Dimensions: 335 × 295 × 295 mm;

Product Weight: about 22 kg;


Note:
QINSUN is very in place for textile testing and quality control,we have our own textile testing lab. Our
textile testing equipment
and testing methods are in the leading position in the industry. We have passed the textile testing certification and iso textile testing standards issued by a number of testing,We can provide
textile testing equipment pdf manual
. Sufficient inventory, big discounts, limited time promotion, Order now!