---
Mask&Respirator Breathing Resistance Tester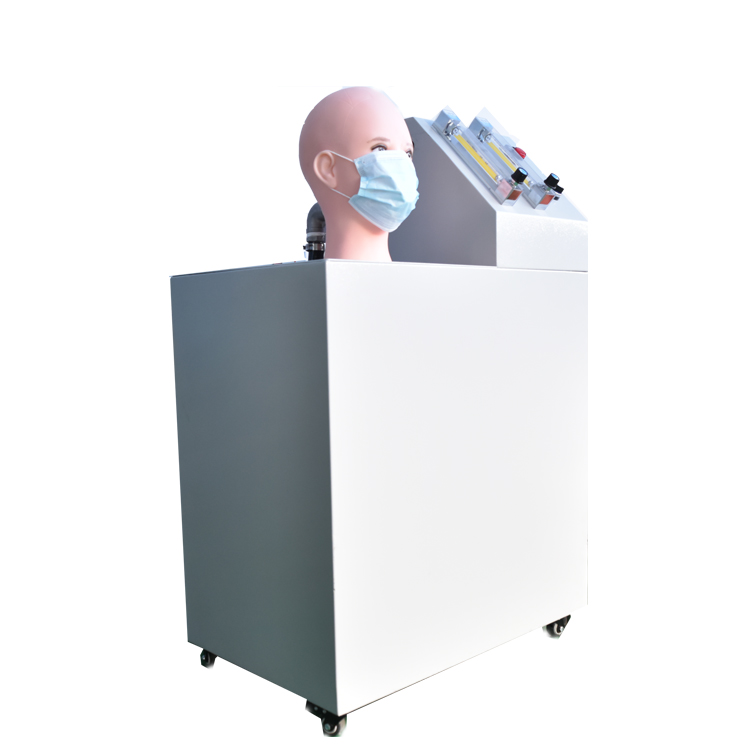 The respiratory resistance tester is suitable for determining the inhalation resistance and exhalation resistance under the regulations of respirators and masks.
Mask respiratory resistance tester is used to measure the respiratory resistance and expiratory resistance of respirators and masks under the specified conditions. Applicable to the national labor protection supplies inspection agency, mask manufacturers related inspection and inspection of ordinary masks, dust masks, medical masks, anti-fog mask products.
| | |
| --- | --- |
| Flowmeter range | 0 ~ 100L/min;Accuracy: 3% |
| Digital differential pressure meter range | 0 ~ 1000Pa |
| Accuracy | 1 Pa |
| Pumping capacity of air pump | ≥100L/min |
| Printer | Micro thermal printing |
| Language | English-Chinese Switchable |
| Weight | Approx 50kg |
| Power Supply | AC220V 50Hz |
1. Touch screen control, English menu, man-machine dialogue mode, easy operation.
2. Built-in thermal printer, it is convenient to quickly print test results on site.
3. Two modes of breath detection and inhalation detection can be set.
4. The automatic switching device of the respirator pipeline solves the problem that the tester pulls out the
pipe and accidentally connects the pipeline when testing.
5. 3D printed standard head mold, which simulates the actual inhalation and exhalation of the human body,
improving the accuracy of the data.
1. Do not carry it by the bottom of the control box during transportation to avoid being crushed.
2. Please wipe the electroplated part with oil to prevent rust and keep bright.
3. After the test, please wipe the machine clean, and regularly oil the active fulcrum to increase its service life and sensitivity. (The lubricating oil can be mixed with butter and a little engine oil)
4. Please wipe the panel (control box or display) with a dry cloth to prevent it from getting wet, so as not to damage the IC electronic parts.
5 Please place all fixtures and joint accessories properly, and wipe off the anti-rust oil to prevent rust.
6 After the machine is transported and placed, the foundation and the level must be fixed steadily.
7. Please input power as indicated. (Note that the phase of the input power supply must be correct, otherwise leakage will occur)
8 Ground wire Please perform ground output according to specifications to avoid danger of leakage and signal interference.
9 Do not pull out the plug during work.
10 Please operate and maintain by professional personnel. In case of major problems, please inform our maintenance department to dispatch personnel to handle it. Do not dismantle parts by yourself to avoid causing major losses.
Note:
QINSUN is very in place for textile testing and quality control,we have our own textile testing lab. Our
textile testing equipment
and testing methods are in the leading position in the industry. We have passed the textile testing certification and iso textile testing standards issued by a number of testing,We can provide
textile testing equipment pdf manual
. Sufficient inventory, big discounts, limited time promotion, Order now!