---
Xenon lamp aging test chamber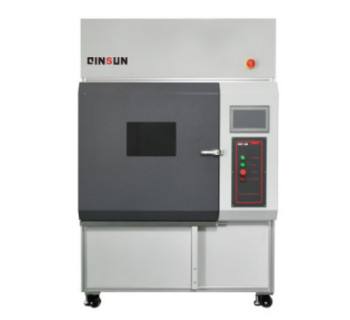 The Xenon lamp aging test chamber is a photoaging tester for large-capacity textile testing. With additional sample light frame, temperature sensor and easy to aging filter. 220 can test 38 samples at the same time, with 150S + double capacity. Large-capacity test box combined with the efficient use of hydropower to make it the most economical air-cooled tester.
Applications:
Weather-Ometer and Fade-Ometer with their advanced digital control systems, represent monumental achievements in applying digital and optical technologies in easy-to-use laboratory weathering instruments. The Series is approved by many OEMs in the textiles, paints & coatings and plastics industries as the exclusive platform to deliver accurate, reproducible and repeatable results for predicting service life. The Series has been certified CE, UL, CSA, ISO and EN compliant.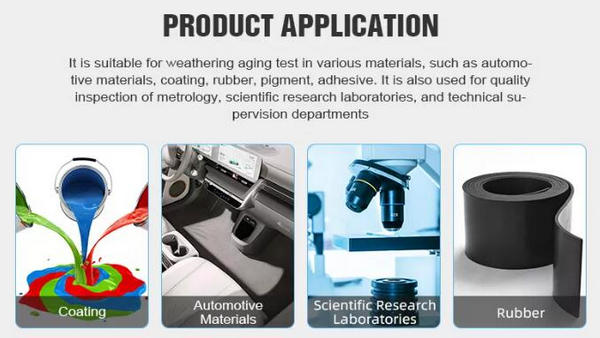 Standards:
AATCC 16-2004, AATCC TM169, ISO 105-B04, M & S C9, M & S C9A, GB / T 8427.

Features:

◆ Xenon Lamp Cooling System-The Series is equipped with a new,ground-breaking xenon lamp cooling system that dramatically reduces the amount of cooling water used.
◆ Rotating Sample Rack-Rotating rack delivers the best exposure uniformity  
◆ Control system - Enhanced control system can handle complex custom programs and simple preprogrammed test, and simple operation page icon is clear and easy to understand ; Irradiation, temperature, humidity programmable step by step change, to meet the various user test requirements.
◆ Intelligent and friendly operating system - intuitive LCD touch interface, full-featured, a variety of languages can be selected; water purity indicator can monitor the input water quality; SmartLight MonitorTM ensures that the lamp is installed correctly.
◆ Irradiance closed-loop monitoring and automatic adjustment, can be calibrated by the irradiance calibration device on a regular basis. Radiation calibration device should be CNAS / A2LA / JAB and other international mutual recognition agency certificate. The calibration mechanism of the calibration device shall be certified by ISO 17025.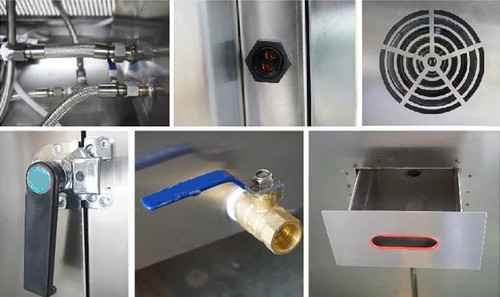 product details:
◆ light source: 2200W air-cooled xenon lamp
◆ exposure test area: 2310cm2
◆ color touch screen control and display test parameters
◆ radiation control: 300-400 nm automatic control
◆ directly set and control the black mark temperature
◆ directly set and control the cabinet temperature
◆ directly set and control the relative humidity
◆ display test diagnostic information
◆ can store up to 10 user predefined tests
◆ multi-language user interface
◆ easy to aging filter system in line with ISO 105-B02 and AATCC TM16 standards
◆ For measuring and controlling the level of radiation (in W / m?) And black standard temperature
◆ optional temperature control: box temperature (up to 65 ℃) or box temperature black mark temperature dual control (up to 100 ℃)
◆ the fan control black mark temperature and the difference between the box temperature
◆ integrated 60-liter water tank for humidity control and sample spray (auto fill)
◆ can be loaded with 19 sample rack test up to 38 standard textile samples (13.5cm × 4.5cm)
◆ pre-defined criteria: ISO 105 B02 and AATCC TM16-2004 (option 3)
◆ to the total exposure, light time or running time to end the test
◆ UV protection test box window
◆ advanced automatic start function
◆ built-in memory chip to store data
◆ through the RS 232 interface or memory card to transfer storage data
◆ Ethernet interface to connect the internal computer network, and XenoTouch Add-ons1, 2, 3 use (remote control, e-mail service, online monitoring)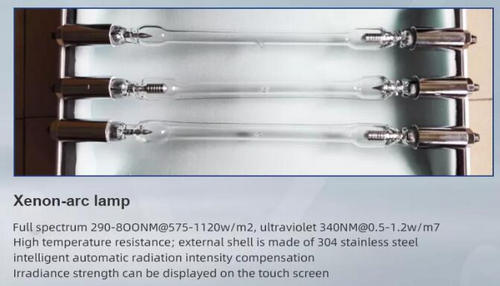 Accessories:
1.XenoCal irradiance calibration device for independent irradiance calibration and measurement at the sample plane
2.Auxiliary filter lantern for meeting special test requirements
3.Specimen Holders available to accommodate many sample types
4.LiquiAirTM self-contained xenon lamp cooling system (top or wall mount available)
Xenon Lamp Aging Test Chamber Brand:
Atlas Xenon Lamp Aging Test Chamber: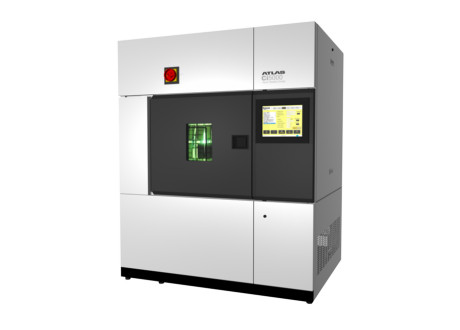 Q-lab Xenon Test Chambers:

Leave Message Get Price!
Note:
QINSUN is very in place for textile testing and quality control,we have our own textile testing lab. Our
textile testing equipment
and testing methods are in the leading position in the industry. We have passed the textile testing certification and iso textile testing standards issued by a number of testing,We can provide
textile testing equipment pdf manual
. Sufficient inventory, big discounts, limited time promotion, Order now!