---
Gas Permeaeter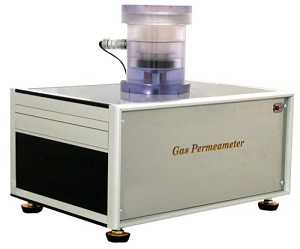 Operation Principle
The Gas Permeameter is suitable for measuring the permeability of porous solid samples. The compressed air (such as air) flows through the sample. The permeability of sample is calculated by measuring the velocity of the gas passing by the sample and pressure drops of airflow after passing by the sample.
Application
Factories worldwide use the gas permeameter for R&D and quality control.
Application industries include automotive, battery, biological separation, ceramics, filtration, fuel cell, geofabric, nonwovens, paper and textiles.

Features
· Windows-based software handles all control, measurement, data collection, and report generation; complete manual control also possible
· Compatible with Windows XP or higher
· Real-time graphical test display depicts testing status and results throughout operation
· Nondestructive testing
· Length of test approximately 10 minutes
· Wide range of acceptable sample types and sizes
· Multiple sample chambers available
· Minimal maintenance required
· Units in Darcy, Frazier, Gurley, and others
Items
Parameters
Permeability Range
1 x 10-3 - 50 Darcies
Sample Size
1.75" - 2.5" diameter
Pressure Range
0 - 500 psi
Pressurizing Gas
Clean, dry, compressed air
Other nonflammable, noncorrosive gas
Pressure Transducer Range
0 - 500 psi
Resolution
1 in 60,000
Accuracy
0.15% of reading
Mass Flow Transducer Range
10 cc/minute to 500 L/minute
Power Requirements
110/220 VAC, 50/60 Hz, other available
Dimensions
30" H x 19 " W x 18.5" D
Weight
100 lbs
Note:
QINSUN is very in place for textile testing and quality control,we have our own textile testing lab. Our
textile testing equipment
and testing methods are in the leading position in the industry. We have passed the textile testing certification and iso textile testing standards issued by a number of testing,We can provide
textile testing equipment pdf manual
. Sufficient inventory, big discounts, limited time promotion, Order now!