---
oxygen index apparatus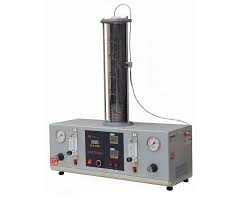 The oxygen index flammability tester is, perhaps, the most economical and precise quality control test of combustible materials. Its ease of use together with high levels of precision has made this technique a primary characterising and quality control tool to the plastic and electric cable industries and it has been specified by several military and transport groups.

The technique measures the minimum percentage of oxygen in the test atmosphere that is required to marginally support combustion. Note that BS ISO 4589 supersedes BS 2782 Part 141.
Oxygen index test apparatus used to determine the polymer to the desired oxygen concentration (volume percent) in the combustion process. The instrument is simple, easy to operate, through the sensor (import) measurement, the figures showthe results,do not have to be calculated by the formula.

This machine can be used as combustion performance as a means of identification of polymer can be used as a research tool in order to obtain a better understanding of the combustion process of the polymer.

Applications:

This Oxygen Index Tester is used to determine the lowest oxygen density that tested materials keep steady burning under oxygen and nitrogen mixed gas.

Defined:
The Limiting Oxygen Index Tester under the conditions specified, the materials in the minimum oxygen concentration required for combustion of oxygen and nitrogen mixed gas stream. To represent the oxygen percentage of the volume occupied by the value.

The oxygen index is high that the material is nonflammable, low oxygen index of said material is highly flammable and is generally believed that the oxygen index of <22 is a flammable material, oxygen index between 22 --- 27 is a combustible material, oxygen index> 27 is a flame retardant materials.
Parameters:
| | |
| --- | --- |
| Combustion tube inner diameter | 100mm |
| High combustion tube | 450mm |
| Flowmeter accuracy | 2.5 grade |
| Pressure gauge accuracy | 2.5 grade |
| Gas source | GB3863 prescribed oxygen,GB3864 prescribed nitrogen |
| Test environment | Temperature:10—35℃ ,Humidity:45[%]—75[%] |
| Input pressure | 0.2—0.3Mpa |
| Working pressure | 0.05—0.15Mpa |
| Sample type | Self-supporting material and non-self-supporting material |
| Display | Digital |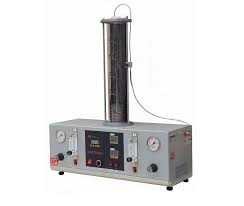 Note:QINSUN always been committed to innovation and improve product performance and functionality, based on the reasons, the product specifications will be changed accordingly. The above without prior notice, the Company reserves the right to amend the final.